Auli
Auli is a ski destination in Chamoli district in the Himalayan mountains of Uttarakhand, India. Auli, also known as Auli Bugyal, in Garhwali, which means "meadow". The fascinating ski resorts and stunning natural vistas. Bounded by the snowy peaks of the mighty Himalayas, this hilly terrain offers the enchanting sceneries of oak fringed slopes and coniferous forests. At an average height of 2800 meters, this might be the single spot where the visitors would get the unusual opportunity of a nice promenade..
Walking through the misty slope provides one with the imposing spectacles of some of the lofty mountain ranges like Nanda Devi, Mana Paravat and Kamat Kamet. Besides these snowy miracles, the boulevards through the slopes offers marvelous views of gorgeous apple orchards and fine deodar trees, which make ones morning, stride a precious experience.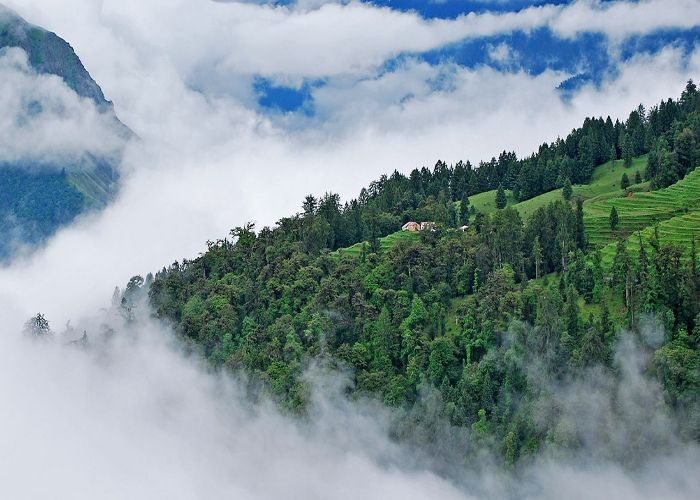 Gurso Bugyal
3km trek from Auli will lead you to the picturesque Gurso Bugyal. Views of the imposing Himalayas like Nanda Devi, Trishul and Dron parvat are invigorating from Gurso Bugyal. Gurso Bugyal transforms to a green pastureland during spring season and wears sheets of snow during the winters. Perched at an elevation of 3,056mts above sea level Gurso Bugyal has mixed forest of oak and conifer. Gurso bugyal is only 1.5km from the last tower of Gondola ropeway.
Chattrakund
It is small lake holding crystal clear water. Chattrakund is situated just 1km ahead of Gurso Bugyal. Located amidst jungle this mysterious lake showers us with fairy tale surroundings. This is the heart of Auli.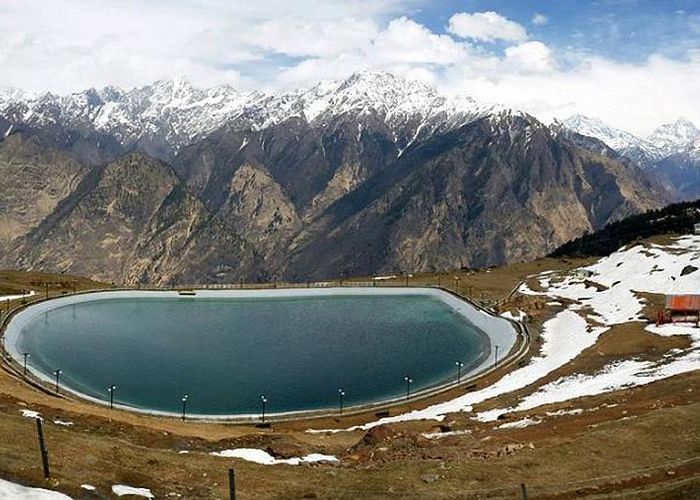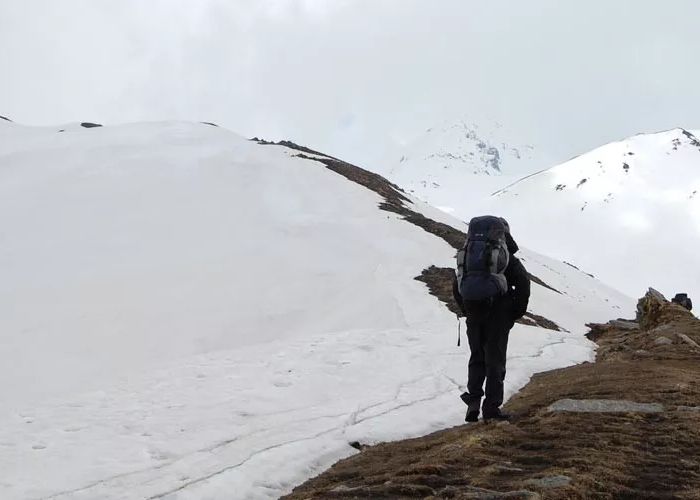 Kwani Bugyal
It is a popular destination with trekkers situated 12kms from Gurso Bugyal at an elevation of 3,380mts above sea level. The best time to visit Kwani Bugyal is June and Septembe
Skiing in Auli
Auli is a snow covered hill station located at an altitude of 2-3 thousand metres above sea level, providing a very beautiful view of Mt Nanda DeviKamet, Mana Parwat, Dunagiri, Beethartoli, Nilkanth, Hathi Parbat, Ghori Parbat and Nar Parbat, is an ideal place for Skiing, covered with evergreen conifers and oak forest. The snow dressed slopes of Auli which once offered the training grounds for the Paramilitary forces was adjudged by the French and Austrian experts who compared it with the best skiing grounds of the world, and rated it as one of the best.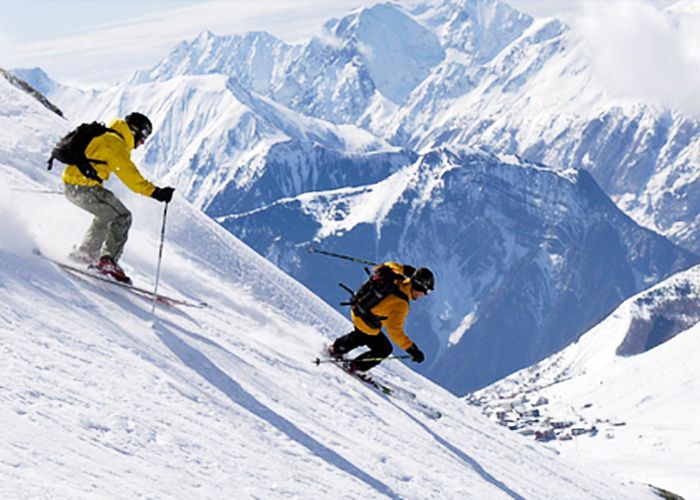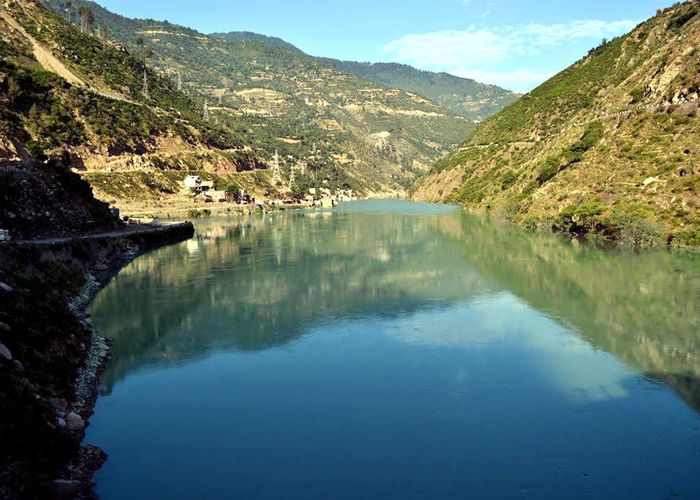 Chenab Lake
One must pass through the last village of Joshimath, Dang Village to reach Chenab Lake. The place is still unknown with most number of tourists and it is quite inaccessible by motorable roads. Therefore, Chenab Lake does not see much of tourists, but the virginity of this place makes it an enchanting spot.
Trishul Peak
The three Himalayan mountain peaks of western Kumaun as a whole forms the Trishul peak. It is having a height of 7120m. The Trishul group forms the southwest corner of the ring of peaks which encloses the Nanda Devi Sanctuary. In 1907, the main peak, Trisul I, became the first peak over 7,000 m to have ever been climbed by someone. The peak can be best viewed from Kausani or during the Roopkund Trek.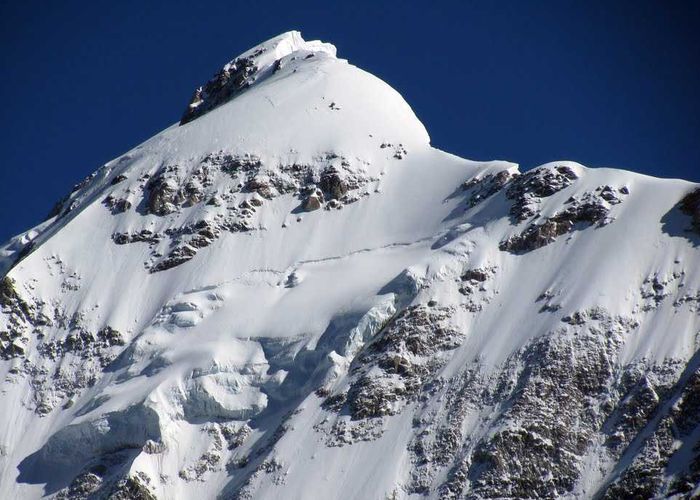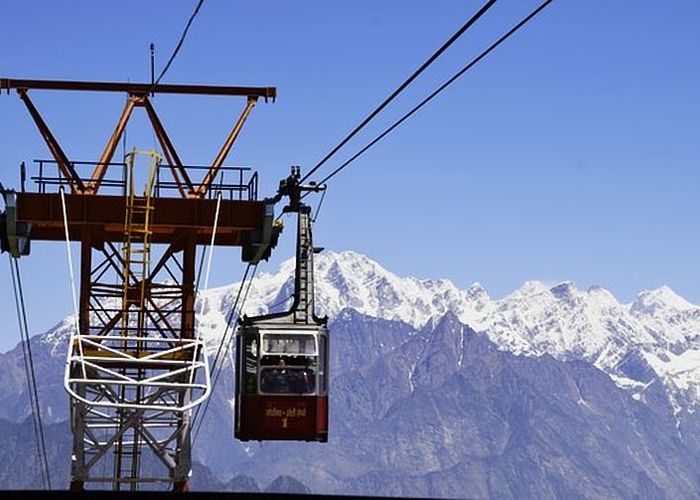 Joshimath
Joshimath is one of the four 'math' created by Adi Shankaracharya. Joshimath is the home of Shri Badrinath during winters. Joshimath is connected with Auli by highest cable car of Asia. Joshimath is situated at an elevation of 1,890mts above sea level. Do visit Kalpavriksha and Narsingh temple while a visit to Joshimath. It is situated 14kms from Joshimath.
Nandaprayag
Situated at the confluence of two holy rivers- Nandakini and Alaknanda, Nandaprayag is the entry point to pilgrim centers of Badrinath and Kedarnath. It makes for a scenic pilgrim centre. The Gopalji temple on the banks of Alaknanda attracts many devotees every year.