Jim Corbett National Park
Jim Corbett National Park
Jim Corbett National Park
Jim Corbett National Park (2019 ), which is a part of the larger Corbett Tiger Reserve, a Project Tiger Reserve lies in the Nainital district of Uttarakhand. The magical landscape of Corbett is well known and fabled for its tiger richness. Established in the year 1936 as Hailey National Park, Corbett has the glory of being India's oldest and most prestigious National Park. It is also being honored as the place where Project Tiger was first launched in 1973. This unique tiger territory is best known as the father who gave birth of the Project Tiger in India to protect the most endangered species and the Royal of India called Tigers.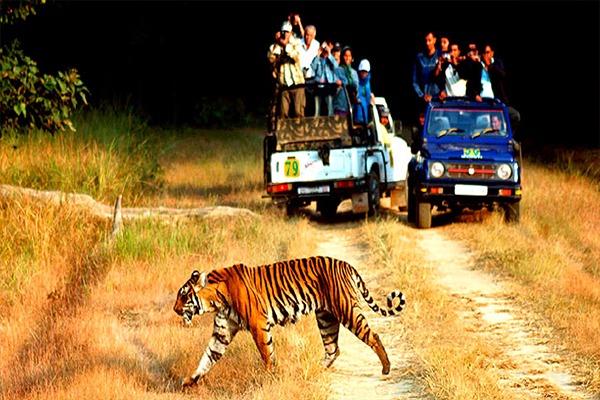 Spans over an extent of 520 square kilometers, its whole area comprises of hills, marshy depressions, riverine belts, grasslands and large lake. It is among the few tiger reserves in India that allows overnight stays in the lap of the National Park. Nature watch and wildlife viewing in the park is done in an open four wheeler Jeep and on elephant back. Sheltering a healthy population of tigers and rare species like Otters and the endemic fish eating crocodile, the national park is one of the most sought after destinations for the wildlife buffs. Dhikala, situated at the border of the extensive Patil Dun valley, is the most popular destination in Corbett because of its superb location and sheer abundance of wildlife present.
If you love bird watching then Corbett is virtual haven for such tourists. Corbett and its adjoining area is a home to more than 650 species of residents and migratory birds. Particularly Dhikala is fine place to look for birds of prey, more than over 50 species of raptors alone shows the healthy biodiversity of the area. Their multiplex behavior is intriguing and their varied songs are very much pleasing to the ear. In a nutshell, this finest national park of India is well known for rich and varied wildlife including royal Bengal tiger, elephant, four to five species of deer and rich birdlife.
The Tourist Zones: In order to promote tourism in the region Corbett National Park has been divided into five different zones. These are the marked buffer or core area of the park where visitors can be part of wildlife safari and can enjoy the intriguing behavior of the animals with bare eyes at proximity. 
Bijrani Safari Zone : Bijrani Zone is very popular tourist's hub because of its abundant natural beauty and open grasslands. The entry gate of the zone is located at only 01 Km from Ramnagar city. 
Jhirna Safari Zone : Jhirna is another important tourist zone in the Jim Corbett National park that is open for tourist round the year. Jhirna Gate is located at 16 km from Ramnagar city. 
Dhela Safari Zone : Dhela is a new eco tourism zone in Corbett National Park included in tiger reserve zone in November 2014. This is the only area in the reserve's buffer zone open to tourists in CTR. The zone is retaining the attention of large number of tourist because of its wealthy flora and fauna, open throughout the year, located at an approximate distance of 13 Km from Ramnagar City. 
Dhikala Zone : Being the largest and most varied zone in Corbett, Dhikala is famous for its abundant natural beauty as well as offering the best sight for exotic fauna. The entry gate is 18 km away from Ramnagar city. Night stay inside the Dhikala Tourism Zone is highly recommended for the hard core wildlife enthusiasts.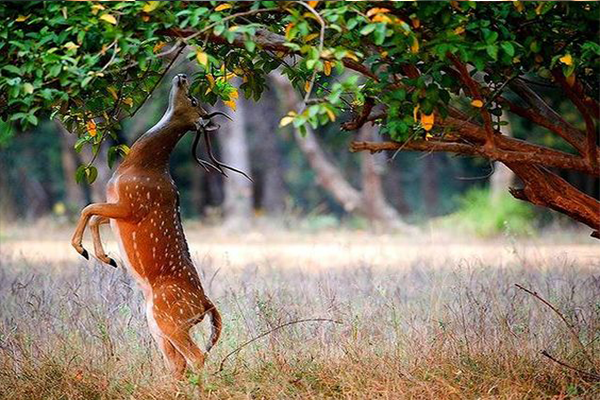 More than 586 species of resident and migratory birds have been categorised, including the crested serpent eagle, blossom-headed parakeet and the red junglefowl — ancestor of all domestic fowl. 33 species of reptiles, seven species of amphibians, seven species of fish and 36 species of dragonflies have also been recorded.
Bengal tigers, although plentiful, are not easily spotted due to the abundance of foliage – camouflage – in the reserve. Thick jungle, the Ramganga river and plentiful prey make this reserve an ideal habitat for tigers who are opportunistic feeders and prey upon a range of animals. The tigers in the park have been known to kill much larger animals such as buffalo and even elephant for food. The tigers prey upon the larger animals in rare cases of food shortage. There have been incidents of tigers attacking domestic animals in times of shortage of prey.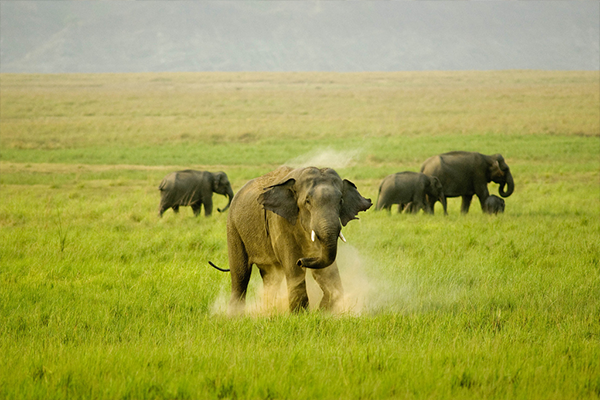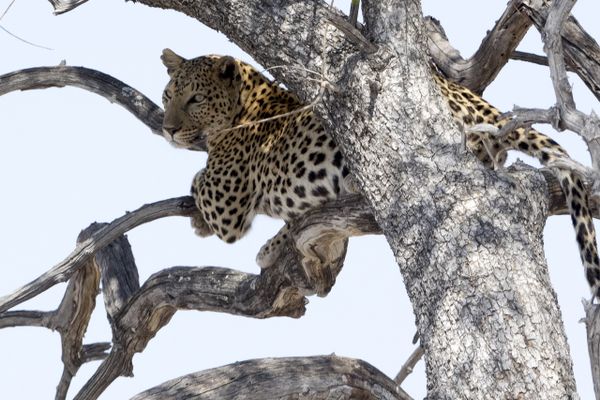 Leopards are found in hilly areas but may also venture into the low land jungles. Small cats in the park include the jungle cat, fishing cat and leopard cat. Other mammals include barking deer, sambar deer, hog deer and chital, sloth and Himalayan black bears, Indian grey mongoose, otters, yellow-throated martens, Himalayan goral, Indian pangolins, and langur and rhesus macaques. Owls and nightjars can be heard during the night
In the summer, Indian elephants can be seen in herds of several hundred. The Indian python found in the reserve is a dangerous species, capable of killing a chital deer. Local crocodiles and gharials were saved from extinction by captive breeding programs that subsequently released crocodiles into the Ramganga river
Attraction 
Jungle Safari 
Elephant Ride
Watchtower 
Wildlife Movie Show
corbett Museum  
Bird Watching 
Ideal time to visit
15th November to 15th june