Kainchi Dham
Kainchi Dham Temple is a placed at an altitude of (1400 MT) On the Nainital – Almora Road, 9 Km from Bhowali and 17 Kms from Nainital is a modern pilgrim centre. This place has achieved recognition owing to the ashram of the famous Shri Neem Karoli Baba Maharajji. Many hundreds of people visit the temples here every day, in season. Each year, during the June 15thBhandara, reportedly, more than one lakh people are fed. Kainchi is a term used for two sharp hairpin bends of the motor road in local dialect hence the name. It has NO relation with scissors.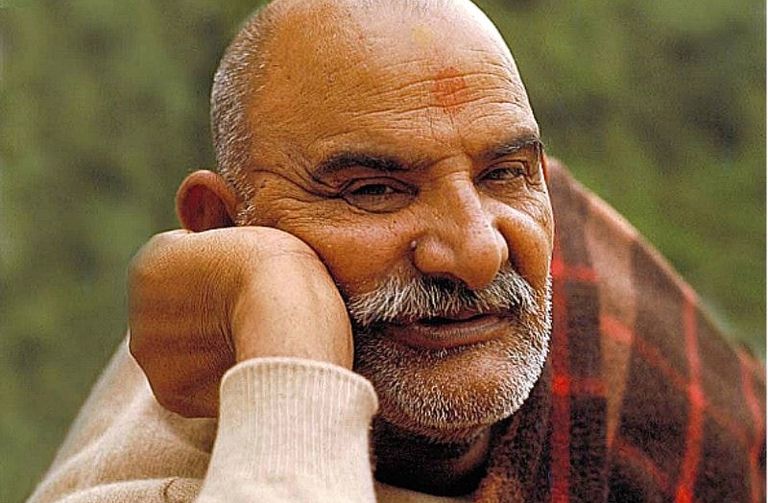 Founded by the famous Maharaj Neem Karoli Baba in 1962 and is very well maintained and kept neat and clean. The concept of this place came into existence in 1942 when Maharaj Neem Karoli along with Shri Poornanand of the Kainchi Village proposed building an Ashram here dedicated to Sombari Maharaj and Sadhu Premi Baba who used to perform yagnas in this very place. Later in 1962, their dream materialised and the forest from this area was cleared and a rectangular platform was constructed. After due permission from the Forest Conservator, Maharaj Ji acquired the lease of this land and constructed a Temple devoted to Lord Hanuman over that rectangular platform and adjacent to it is the Kainchi Temple and an Ashram built for devotees.
The Hanuman temple is built over the platform mentioned above. His devotees started coming from different places and a chain of bhandaras, kirtans, bhajans started. The Pran-Pratishtha of idols of Hanumanji and others was performed on 15th June in different years. Thus, 15th June is celebrated every year as Pratishtha Divas when a large number of devotees come to Kainchi and get Prasad. The number of devotees and the associated vehicular traffic is so large that the district administration has to make special arrangement to regulate the same. Accordingly some changes have been made in the whole complex so that people do not face any difficulty in movement.
The famous world wide celebrities and most popular business founders are follower of Baba Nimkarori Maharaj ji , Kainchi Dham. Facebook CEO Mark Zuckerberg revealed that when his company was going through a tough patch, Steve Jobs advised him to visit a temple in India, where the Apple co-founder had also experienced life-changing spiritual reflection. "He told me that in order to reconnect with what I believed as the mission of the company, I should visit this temple that he had gone to in India, early on in his evolution of thinking about what he wanted Apple and his vision of the future to be, the month-long trip reinforced for me the importance of what we were doing,"  Zuckerberg said
Deeply influenced by the Indian spiritualism in 70s, Steve Jobs visited Kainchi Dham Ashram, in Nainital, in the state of Uttarakhand (the Ashram of Baba Neem Karoli or Baba Neeb Karori, considered a reincarnation of Lord Hanuman); and he is believed to have got the vision at this place to create Apple.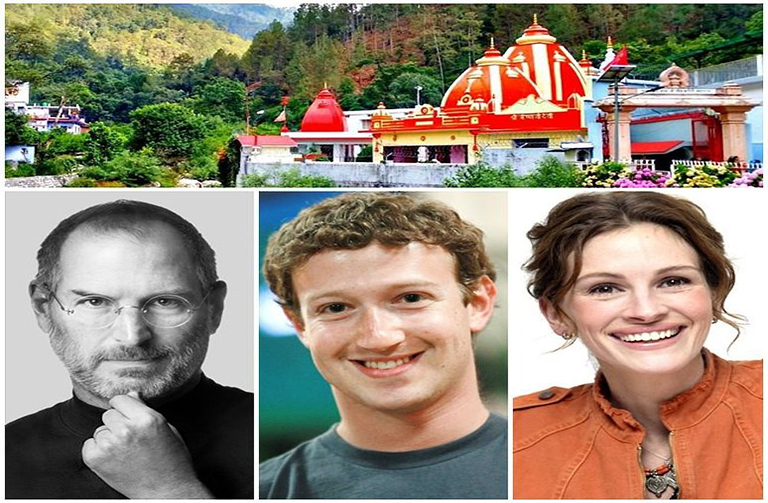 Hollywood actress Julia Roberts is also said to be influenced by Neem Karoli Baba and was drawn to Hinduism because of him.
Neem Karoli Maharaji's Teachings 
Maharajji taught many people. These teachings continue today. The teaching was very subtle or literally a knock on the head. Maharajji's teachings seem to have been totally individual. Each devotee would have the answer or the help they needed in the way that was best suited to their needs. When devotees remembered Him, Maharajji would rush to them to help and protect them. This seems to be going on to this day. 
Maharajji seems to be continually visiting people and helping them since He "left His body" in Vrindaban in 1973. One devotee said that he thought the greatest miracle was what Maharajji has done since then. Maharajji has visited, helped, guided, fed, and called into service so many in the last twenty-five years. Maharajji never went away. For this we can be grateful.
The temple is Kainchi Dham Ashram in Nainital, Uttarakhand. If you plan to visit in Uttrakhand, then surely visit this temple and pray by heart surely your wish will be completed. worldwild people visit here. You should be must visit this place.