Mathura
Famous as the birthplace of much loved Lord Krishna, Mathura is a city located on the banks of river Yamuna in the state of Uttar Pradesh and draws flocks of Hindu tourists every year looking to visit the numerous temples in the city.Mathura is a holy city for Hinduism, the world's third-largest religion. There are many places of historic and religious importance in Mathura and its neighbouring towns. The twin-city to Mathura is Vrindavan. As the home of Krishna in his youth, the small town is host to a multitude of temples belonging to various sects of Hinduism proclaiming Krishna in various forms and avatars.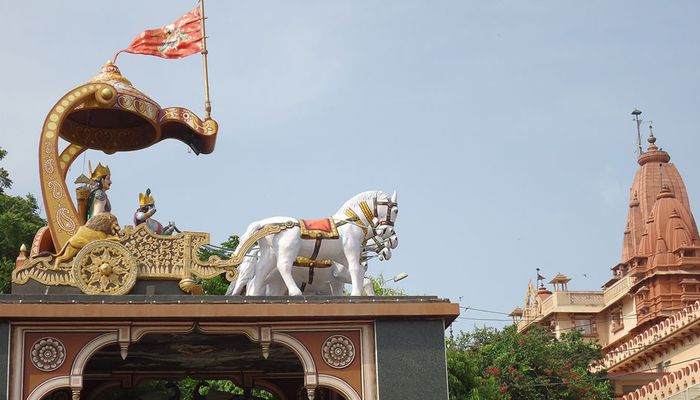 Shri Krishna Janmabhoomi
Shri Krishna Janmbhoomi is a Hindu temple in Mathura, Uttar Pradesh. the prison cell where Krishna is said to have been born. The original temple was built by King Vajra, then later rebuilt by Vikramaditya. The temple is said to have been destroyed and rebuilt 17 times in its history. Today the temple is one of the most frequently visited temples in India.
Dwarkadhish Temple
Sri Dwarkadheesh Mandir is one of the oldest and largest temples of Mathura city in States of Uttar Pradesh, India. This is a major and famous Hindu shrine, and its current structure was built up by Seth Gokul Das Parikh. It was built for the famous Hindu deity Dwarkadheesh (meaning the God or king of Dwarka, where Lord Krishna has shifted from Mathura and settled till his life on earth). There the main deity is of Lord Dwarkadheesh, a form of Lord Krishna seen in a black Marble idol named Dwarkanath. With him is the White marble idol of his counterpart deity Sri Radharani.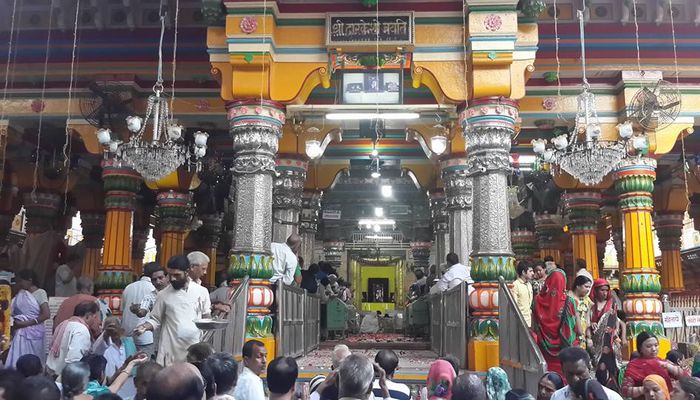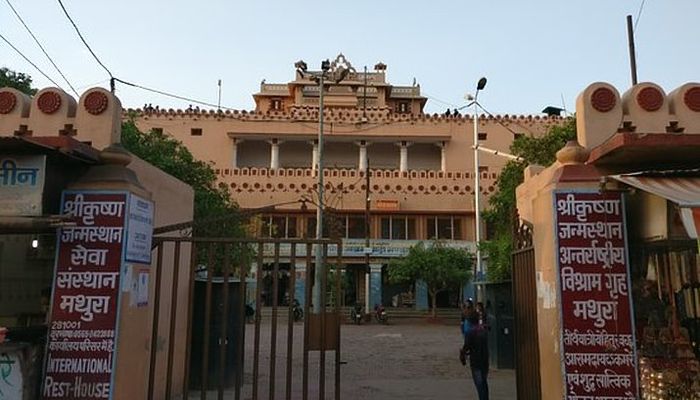 Sri Krishna Janmabhoomi Temple Complex
It is believed that this temple is situated at the place where Lord Krishna was born and the result of many excavations has tried to prove this belief. This site has faced brutal destruction during Muslim invasions. Small shrines of various gods and goddesses are seen here within the colossal structure.
Govardhan Hill
Govardhana Hill also called Mount Govardhana, Giri Raj and Royal Hill, is a sacred Hindu site in the Mathura district of Uttar Pradesh, India on a 8km long hill located in the area of Govardhan and Radha Kund. Known as Govardhan or Giriraj it is the sacred center of Braj and is identified as a natural form of the Lord Krishna himself (Govardhana sila). It is a serene place, and definitely, a must visit!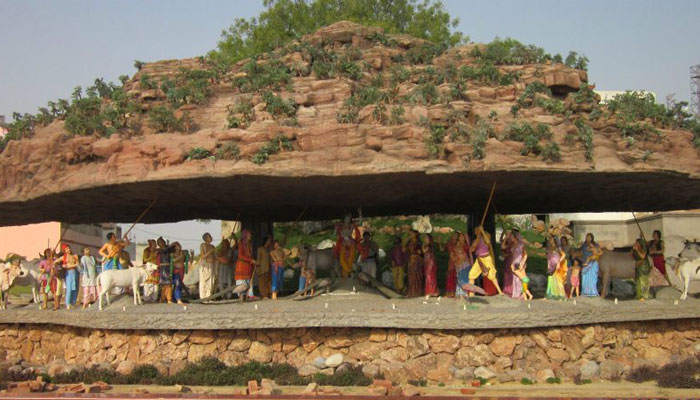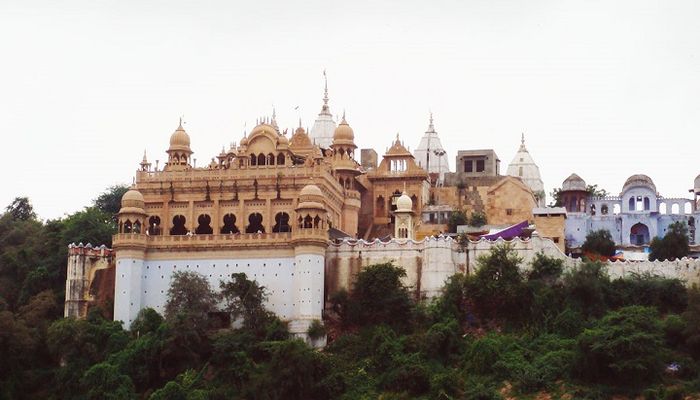 Barsana Shri Radha Rani Temple
Shri Radha Rani Mandir is the first temple of Shrimati Radha Rani the godess of Love on the top of Bhanugarh hills. Barsana is her birth place, people call her Ladliji and Shriji therefore also known as Shriji Temple or Laadli Sarkar Mahal. Holi and Radhashtami are the world wide famous festival of Ladli Lal Mandir.
Radha Kund
Radha-Kund is a town and a nagar panchayat in Mathura district in the Indian state of Uttar Pradesh.Following the sacred writing "Sri Upadeshamrita" by early 16th-century saint Srila Rupa Goswami of Vrindavan, a close associate of Sri Chaitanya Mahaprabhu, Vaishnava Hindus consider Radha-Kund to be the supreme of all holy places. Must visit this place and its story is very interesting.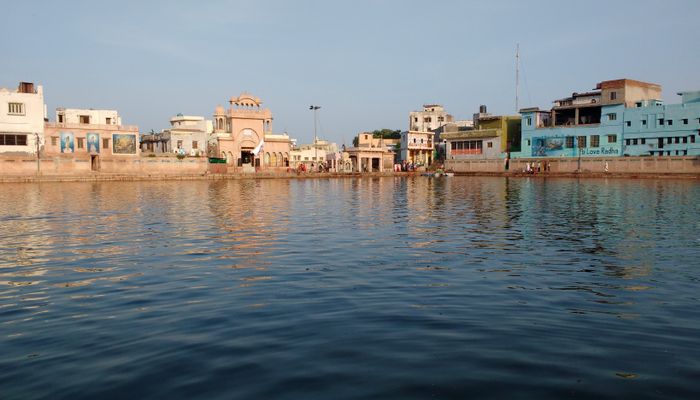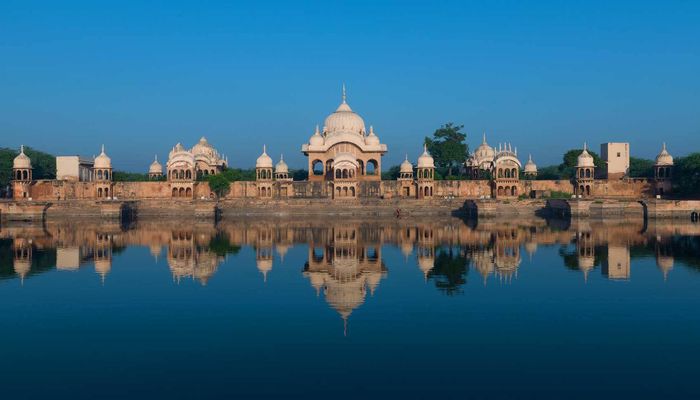 Kusum Sarovar
Kusum Sarovar, a historical sandstone monument on the holy Govardhan Hill between Goverdhan and Radh Kund in District Mathura of Uttar Pradesh, India. Near the monument are the Narada Kund, where Bhakti Sutra verses were written by Narada, and the Sri Radha Vana Bihari Temple.
Vishram Ghat
Vishram Ghat is a ghat, a bath and worship place, on the banks of river Yamuna in Mathura, India. It is the main ghat of Mathura and is central to 25 other ghats. The traditional parikrama starts and ends at Vishram Ghat. Lord Krishna is said to have rested at this place after killing Kansa.
The Vishram Ghat is lined with elegant temples and some of the most important shrines of Mathura. The aarti held at the Vishram Ghat every evening is something that shouldn't be missed, for the little oil lamps that are floated on the river set the placid water sparkle with countless flickering lights.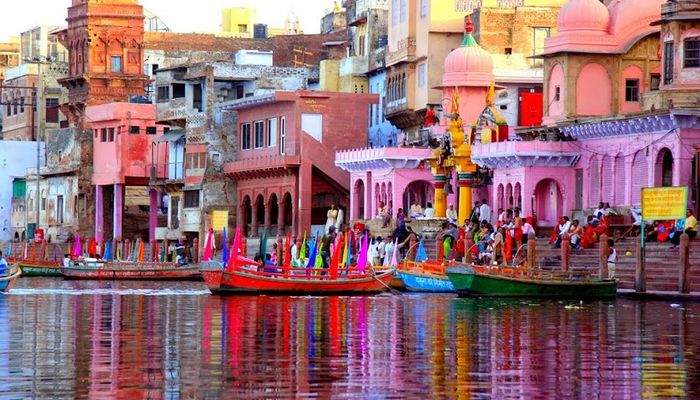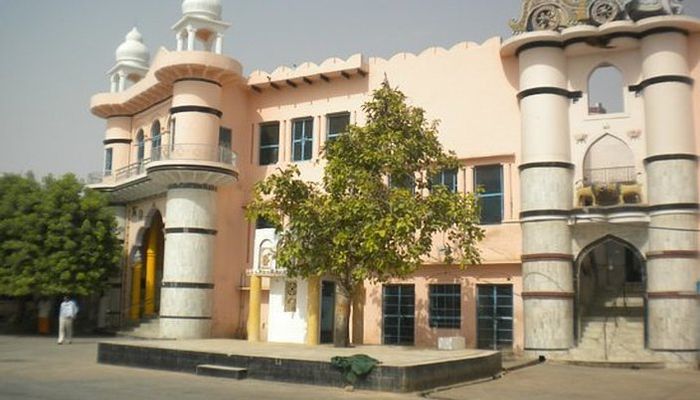 Kokilavan Dham (Shani Temple)
Mathura, the holy city of Hindu also has a temple for Lord Shani Dev in one of its dense forests and temple is called Kokilavan Dham (Shani Temple). It is situated in Kokilavan Dham at Kosi Kalan which is around 10 km Mathura, Uttar Pradesh. 
Apart from the daily pooja and aarti, Saturday and Shani Amavasya are special days for the temple. Very interesting story about that place, must visit Kokilavan Dham. 
Government Museum Mathura
The museum houses artifacts pottery, sculptures, paintings, and coins primarily from in and around Mathura, plus discoveries made by noted colonial archaeologists like Alexander Cunningham, F. S. Growse, and Fuhrer. The museum is famous for ancient sculptures of the Mathura school dating from 3rd century BC to 12th century AD., during Kushan Empire and Gupta Empire. today it is one of the leading museums of Uttar Pradesh.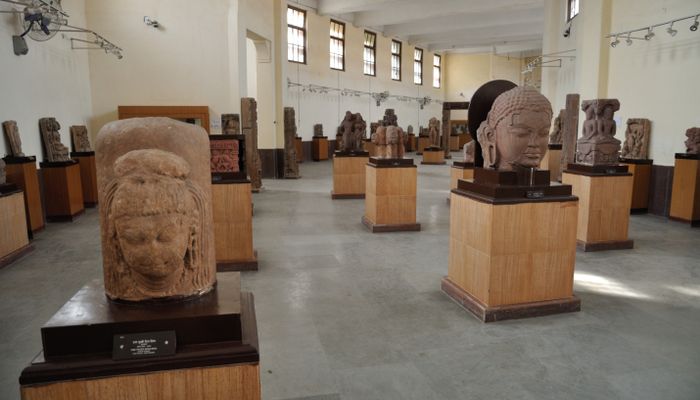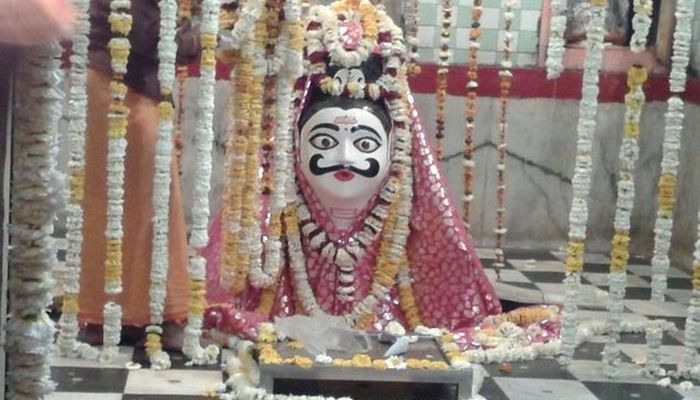 Bhuteshwar Mahadev Temple
Bhuteshwar Mahadev Temple is one of the oldest temples of Mathura, which is dedicated to Lord Shiva. The presiding deity of Lord Shiva is referred to as Bhuteshwar Mahadev. The sanctum of this temple measures around 100 sq. m in area. It is believed that Lord Shiva came to Braj and resided as the protector of Lord Krishna's abode, Sri Vrindavan Dham.
The temple also encompasses the cave of Patal Devi, who was worshipped by King Kansa. In the month of Sawan, during five Mondays, the temple is thronged by many devotees.
Elephant Conservation & Care Center
Located at Mathura, near our bear rescue center, is the Elephant Conservation and Care Center.
"Elephant Conservation and Care Center" is a project of Wildlife SOS, created in 2010 in collaboration with the Uttar Pradesh. 
The Elephant Conservation and Care Center currently houses 20 elephants which includes 12 females and 8 male elephants. The center is full of natural vegetation with enough open fields around for their daily walks and several trees available to scratch themselves, thus making it closest to the natural habitat of the elephants. Water pools have been provided to the elephants with the free access for them to bath and play in the water, at will.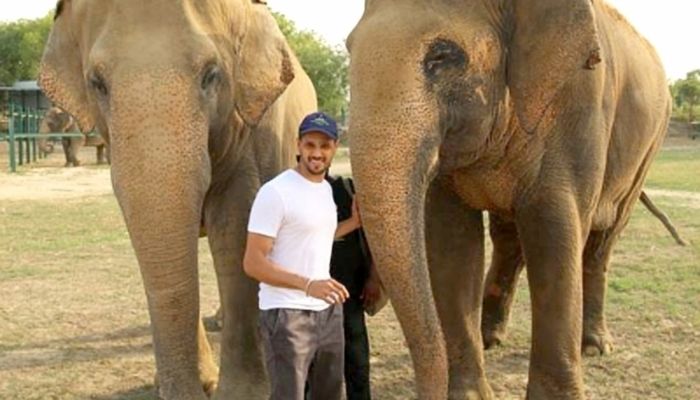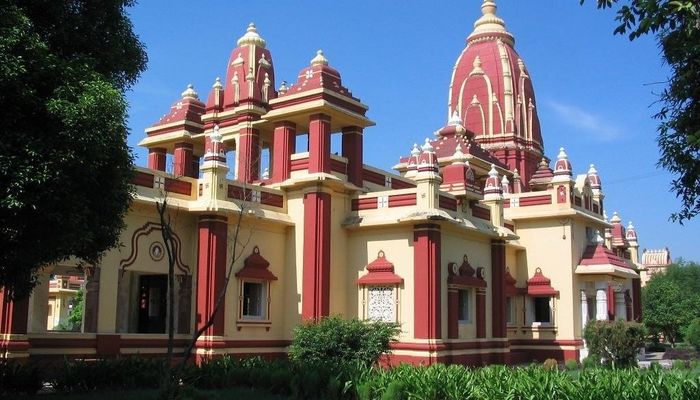 Gita Mandir Temple
Gita Mandir in Mathura was build by Jugal Kishor Birla , the famous business group, the Birla group of memory of his parents and all the 18 chapters of Bhagvat Gita was written on the pillars of the temple. This temple is situated at the outskirts of Mathura and on the road to Vrandavan and is 5 km away from Mathura City. 
Baba Jaigurudev Mandir
If we compare to other shrines in the city, Baba Jaigurudev Mandir is not a very famous temple in Mathura. However, the beauty of this temple is the heavenly white structure of the building and the domes, if fact, most visitors who come to visit, refer this temple to resembles the Taj Mahal. this temple is that no donations are accepted from any non-vegetarian.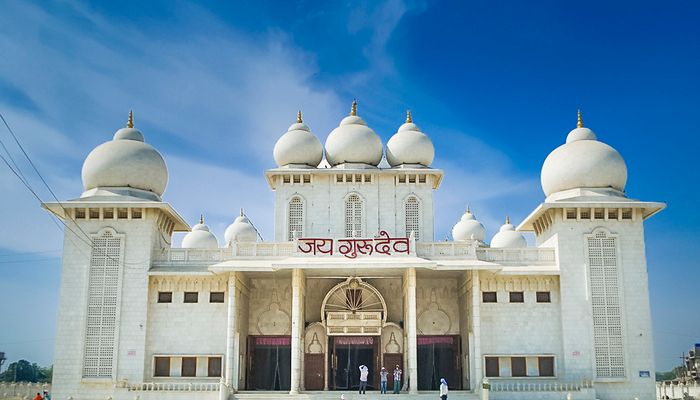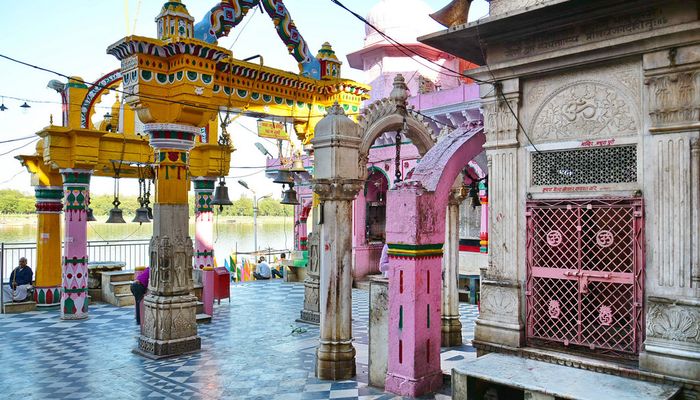 Kesava Deo Temple
Kesava Deo Temple is amongst one of the sacred Hindu religious places located near the main Krishna Janmabhoomi Complex in Mathura. This temple is blessed with the deity of Lord Krishna and is said that the original deity was first placed by Shri Bajranabh, the great grandson of Krishna.One unique feature about this Krishna temple is that it has its own festival calendar and that all the functions are held within the premises. Besides, Kesava Deo Temple attracts a lot of Hindu pilgrims mainly for the unusual festival ritual of Lathmar Holi.
Chamunda Devi Temple
Located right opposite of Maa Gayatri Tapobhumi, Chamunda Devi Temple in Mathura is one of the most important spiritual retreats to visit in India because it is believed that a hair strand of Maa Gayatri fell on this very spot. This event is also mentioned in the sacred text of Shrimad Bhagwat. It is believed in Satyug Lord Krishna offered salvation to a python after which he went to seek blessings from Maa Chamunda here. he deity Maa Chamunda is also the clan Goddess of Nand Baba and it is said that after performing Mundan of Sri Krishna at Saraswati Kund, he also came to seek blessings of Maa Chamunda. The temple is also believed to be a meditation centre for Sage Shandilya and that Sri Gorakhnath also attained knowledge here.The major attraction of this place is that Chamunda Devi Temple does not have any idol inside.