Munsiyari 
Munsiyari is a comely hamlet situated in the Pithoragarh district of Uttarakhand state, India, nestled in the snow capped peaks of the Himalayas Munsiyari offers splendid vistas of natural beauteousness. This scenic hill station is perched between the borders of India, Tibet and Nepal, Munsiyari is a base for three glaciers namely Namik, Milam and Ralam Glaciers. at an altitude of 2298mts above sea level.
This quaint little village is often seen romancing with brilliant weather throughout the year and the stunning backdrop of Panchachuli among the other treasured peaks and mountains. Munsiyari literally translated mean place with snow, and is also referred as Little Kashmir. Visit this place to experience the panoramic vistas of virgin nature and adrenaline rushing activities.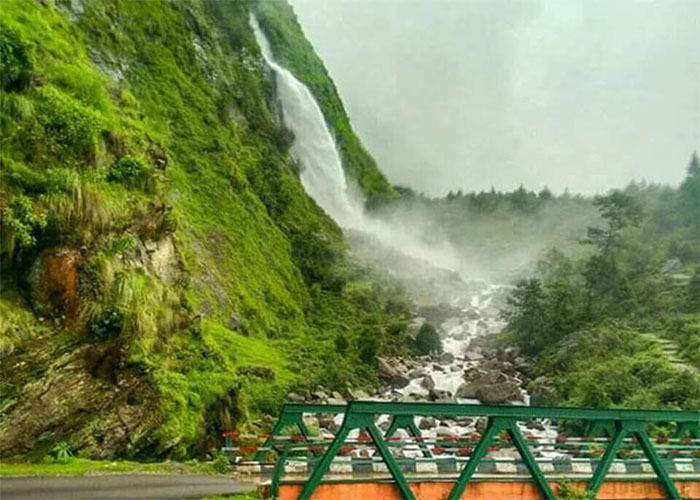 Birthi Falls
The Birth Water Falls is located about 14 km from tejam near Munsiyari in Pithoragarh district of Uttrakhand. This cascading fall surges from 400 feet above sea level and can also be reached from kalamuni Pass. The Birth Fall is about 35 km from Munsiyari and can be approached easily by a short trek.
Falling from the height of 126m, Birthi falls offers an extremely refreshing experience. With lush green surroundings blooming in various colors, it makes for an ideal place to sit and enjoy tea and lunch.
Panchachuli Peak
A prominent peak which is visible from all the main points of Pithoragarh district, Panchachuli peak looks majestic from Munsiyari. The beauty of the five peaks lying in the Johar Valley is so captivating; it adds charm to this already delightful place.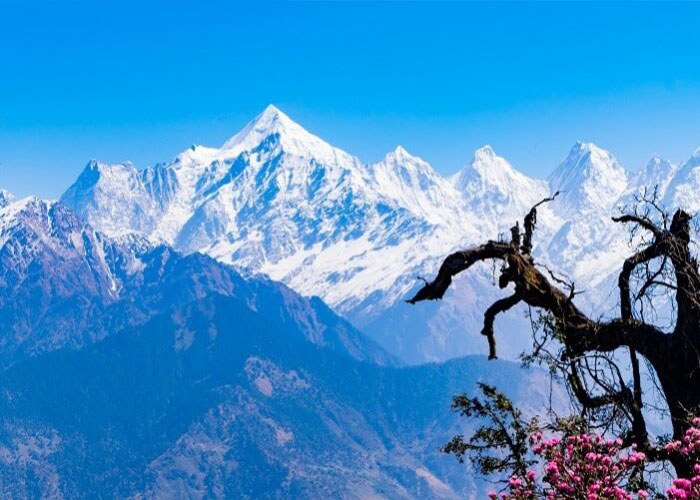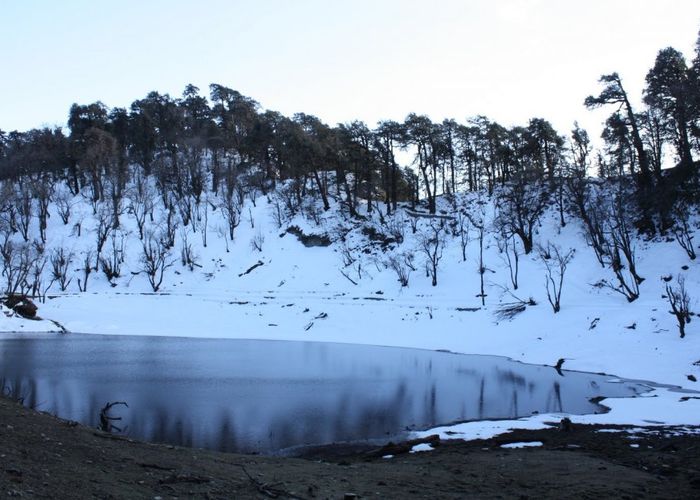 Maheshwari Kund
A beautiful place with a very fascinating legend attached to it, Maheshwari Kund is just a few kilometers walk from Munsiyari. Once cursed by a Yakshi who use to live in a small lake there, the place faced drought for several years. There is a famous Hindu legend associated with the lake . It says a Yaksha, a demi-god who used to reside in the pristine lake, cursed the kund.
Kalamuni Temple
Located at a distance of 15 km from Munsiyari on the way from Birthi, Kalamuni Top is 9500 feet tall. The place is famous for its Kali Temple dedicated to Naga God. The temple has a divine aura that emancipates all the bad energy and negative vibes. The outer wall of the temple showcases interesting fresco of kali Mata and the Naga Sadhus can also be seen meditating here.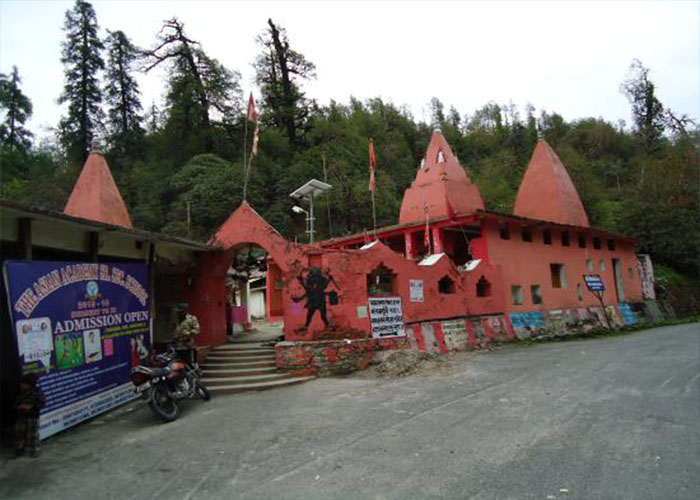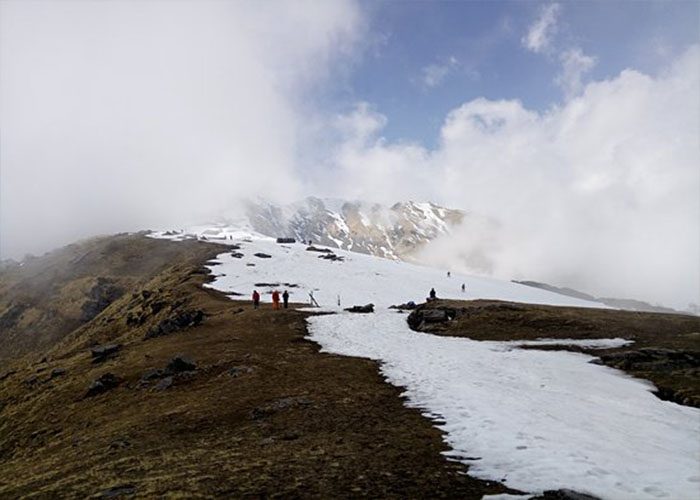 Khaliya Top
The Khaliya Top is a Meandering meadow surround by snowy peaks, offering an awe-inspiring view of the mystical land of Kumaun. The Khaliya Top is perched at an astonishing altitude of 3500 mtr above sea level and located near Munsiyari. One can savour the panoramic views of the majestic Panchachuli, Rajrambha, Hardeol and Nanda Kot peaks from the Khaliya Top.
Thamari Kund
Thamari Kund is a small pond located in the forest of Munsiyari region of Uttrakhand. This enrapturing natural lake perfect for relaxing is bounded by natures beauty in abundance. From Alpine trees to paper trees, this place also houses many Musk Deer and enriched in variety of flora.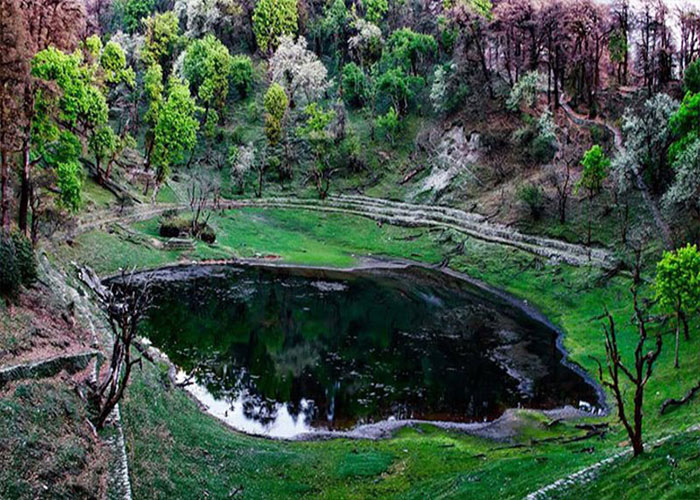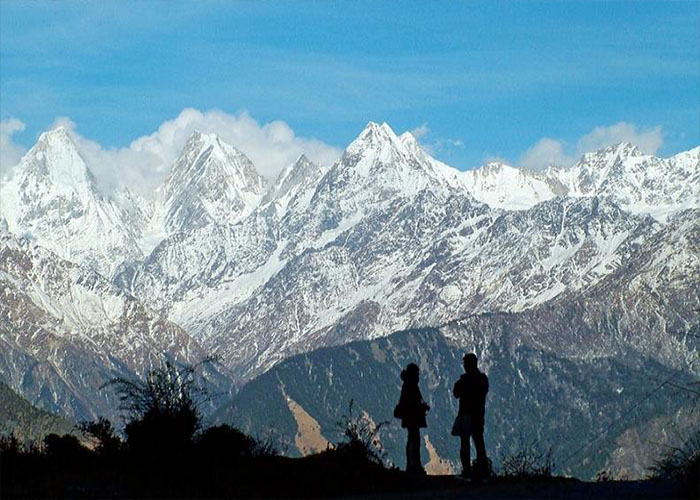 Betulidhar
Situated at a height of 9000ft, Betulidhar area is covered with red Rhododendrons in full bloom. However, the most salient feature of this place is absolutely gorgeous sunset and sunrise with an entrancing view of snow covered Himalayas and Balati and Ralam Glaciers. Tourist people never miss place at morning or evening.   
Nanda Devi Temple
Nanda Devi temple dedicated to Goddess Nanda or Parvati is a Hindu sacred site where the faith of many devotees abides. This religious site can be reached by commencing a swift 3 km stimulating trek from Munsiyari town perched at 7500 ft above sea level. One can indulge in the Holy Spirit and savour some strikingly breathtaking view of the Panchachuli ranges from here.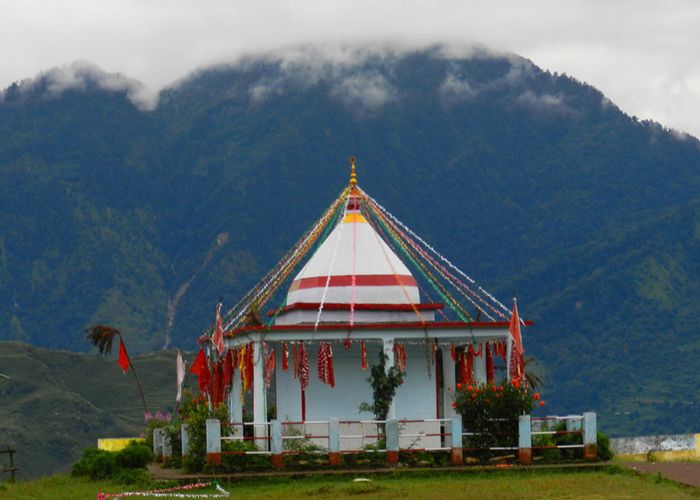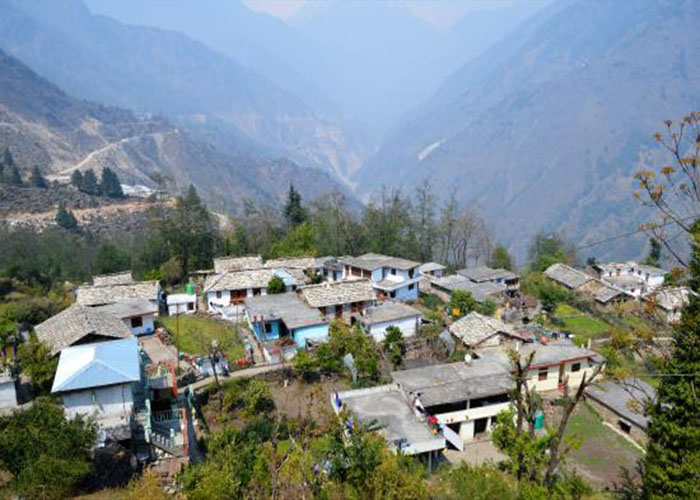 Darkot
Darkot is a tiny hamlet idyllically situated on Madkot road about 6 km from Munsiyari. This pristine village is encircled by the majestic Himalayan peaks and is blessed with flora and fauna in abundance. One can see the rustic houses cocooned in Darkot that displays the rich culture of Kumaon. If you are a nature lover, a wanderer or an art lover then you must visit this place. You can go for village walks, have a sneak peek in the culture of the locals and buy the hand woven Pashmina shawls, which are the specialty of the village.
Madkot Village
Madkot is a picturesque hamlet, which is blessed with scenic splendour, as the place is rich in vegetation. The tiny village is located about 22 km from Munsiyari. This hot water spring is located on the bank of Gori Ganga River en route Jauljibi – Dharchula. Madkot is widely know for housing thermal springs that have healing powers that can cue any disease that inflates and pains the joints, muscles or fibrous tissues, especially rheumatoid arthritis. The water of these hot water spring also helps to get rid of the skin eruptions.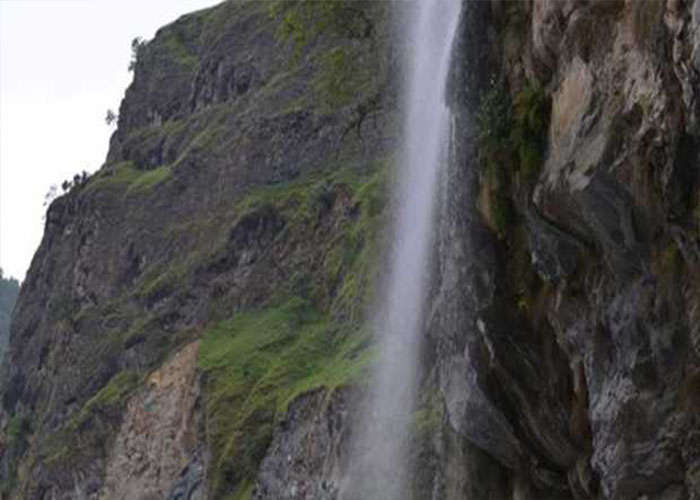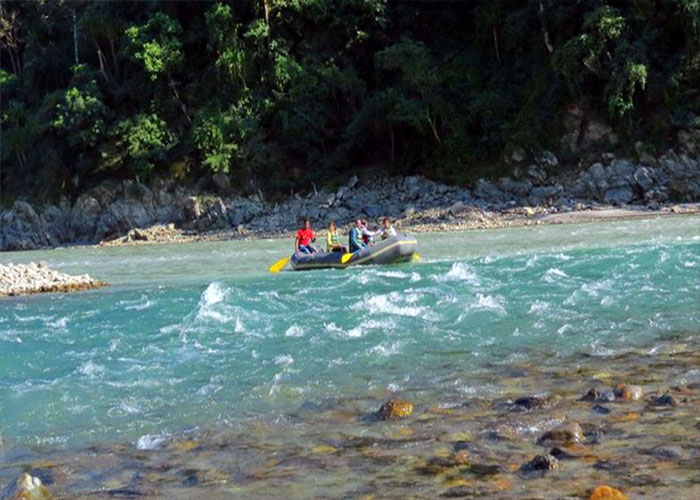 River rafting in Gori Ganga River
The white ganga river is a popular spot for water rafting. white river rafting which lures many adventure enthusiasts to visit Munsiyari. Amateur, as well as professionals, can enjoy river rafting in the buoyant water of Gori Ganga River. The river offers Grade I to VI river rafting depending on the difficulty level.
Camping
Camp Ramganga is a adventure riverside camp by wildrift in the Ramganga village near munsiyari. A quit different from the weekend adventure camp, wildrift camp Ramganga offer you a beach  camping experiences with several activities like campfires, white water kayaking, fishing and swimming in river pools.
A number of hotels and setups in the area provide facilities for camping and bonfire.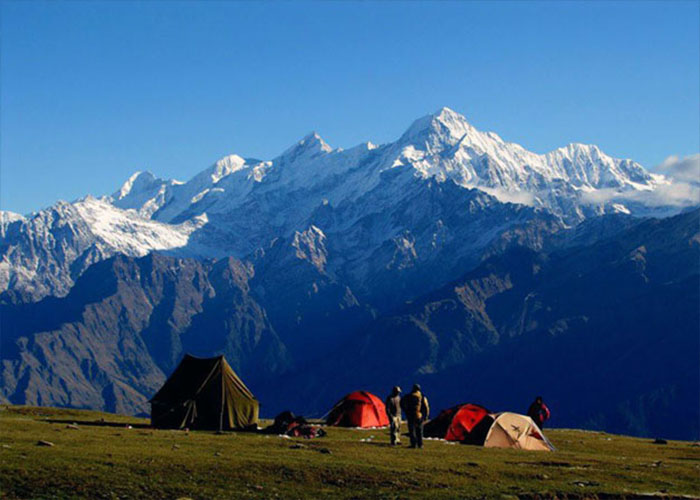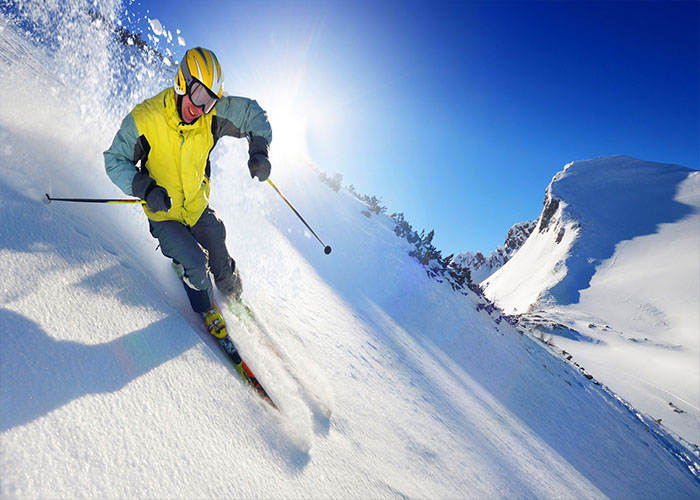 Skiing
Munsiyari is the name of a town and a tehsil in the Pithoragarh District in the hill-state of Uttarakhand, India. It is lies at the base of the great Himalayan mountain range. At an elevation of 2200 mts and is a starting point of various treks into the interior of the range.It is a fast growing tourist destination, and mountaineers, glacier enthusiasts, high altitude trekkers and nature lovers commonly use it as their hub or base camp.
Khaliya Top- Set about 7 km from Munsiyari, it is an ideal spot for skiing. It has high altitude gradual slope pastures. Betulidhar; Betuli Dhar is only 5-6 km away from Munsiyari. A picturesque garden of Rhododendron, whose wide range is beautiful, and has skiing slopes.
Trekking 
Munsiyari is a popular trekking destination, and serves as a base to various popular trails. Some of the popular treks in the area include the Khalia top trek, which is a 2-hour trek which rewards one with lush green meadows and traces of snow, and the Thamri Kund trek, which is a much more modest and easier trek.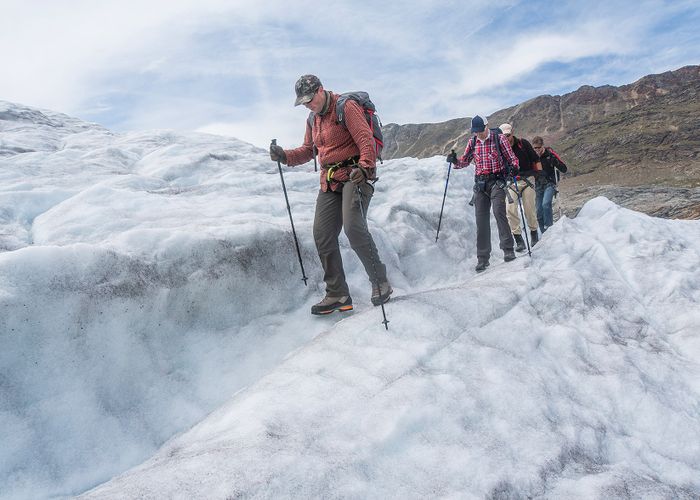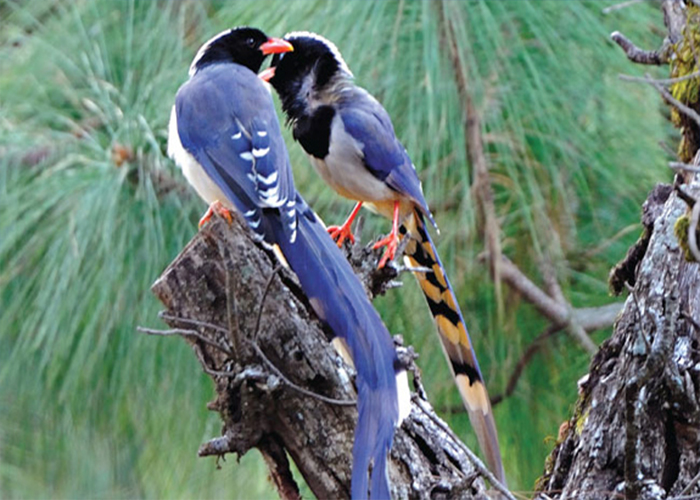 Bird Watching
Munsiyari is also a favorite for bird watchers, given the huge variety of species that can be spotted here. Little pied flycatcher, Black Redstart, Streaked Laughing Thrush, Himalayan Woodpecker, Verditer flycatcher, Grey winged black bird, Scaley Billed Woodpecker, Black-lored Titare are some of the countless birds that can be seen in and around this area.