Nainital
The beautiful lake resort nestles amidst seven hills in a lush valley at an altitude of 1938 meters. In 1841, the British first discovered Nainital as a holiday resort. Today, the town has emerged as one of the most important hill resorts of India.
Nainital is a modem hill resort of northern India (336 kms from Delhi) connected  by best-aligned and maintained roads from the railhead of Kathgodam. Railway line was laid up to Kathgodam in 1882. The road passes through forests where occasionally wild animals can also be seen. "Naini" is derived from the temple of goddess Naini which was built on the bank of the lake but later got destroyed due to land slides in the year 1880, The place is mentioned in Skand Puran as 'Trishul Sarover'. Tri Rishi (three sages Atri, Pulastiya and Pulha) had come there for pilgrimage while they were at Gagar range (now called China Peak), they felt thirsty and could not find any water. Thereafter, they thought of Man Sarover and dug a hole which at once got filled with water.
The lake then formed was called Tri-Rishi Tal (The lake of three sages). Today it has an impressive lake surrounded by the hills from three sides with highest peak Cheena (2610 m) and the valley in between running from east to west. The lake is a little more than 3 kms in circumference.
Nainital remains packed from April to November with tourist for sight seeing as well as for seeking escape from the heat of the plains. Naini lake has facilities for boating and yatching. Facilities for horse riding, skating, golf and rock climbing are also available for the visitors. Fishing is also permitted with the permission of local authorities. Talli Tal and Malli Tal are the two main trading centre at Nainital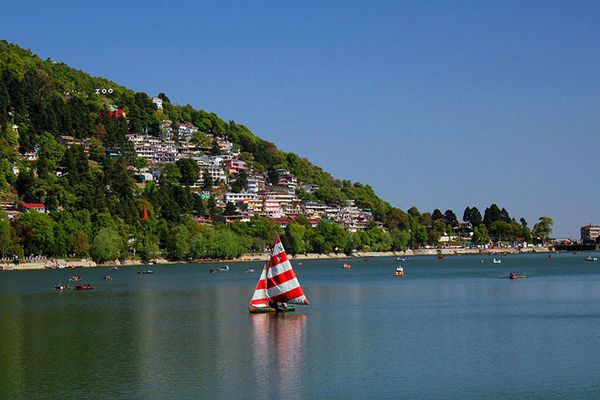 Naini Lake
Naini  Lake full cover of high mountain, Naini lake is always attractted by the adventure sports lover who wanna experience boating in naini lake. But it should be note down that at the night boating is prohibited but tourist can enjoy a pleasing night walk along side the naini lake to experience the magical reflections of stars on naini lake.
Hanumangarhi     
Hanuman Garhi, a famous Hindu temple of Lord Hanuman, is situated to the south of Tallital, approximately 3.5 km away from the Nainital bus stop. The temple is perched at an altitude of 6,401 feet from the sea level.
People who visit Nainital do not miss the opportunity of watching the mesmerizing view of sunset that one can get from this place. Hanuman Garhi is a must visit for people with a religious bent of mind. On the other side of the hill housing the temple are Shitala Devi temple and Ashram of Lila Sah Bapu.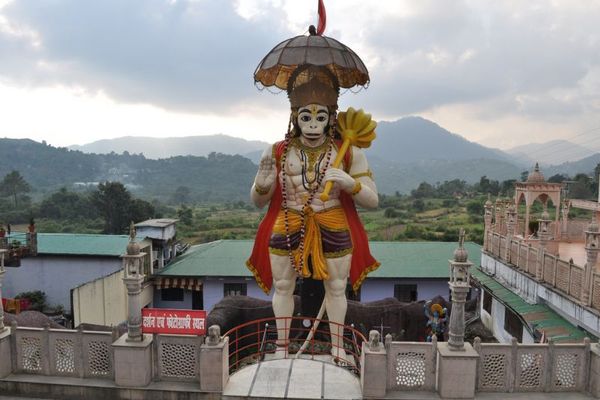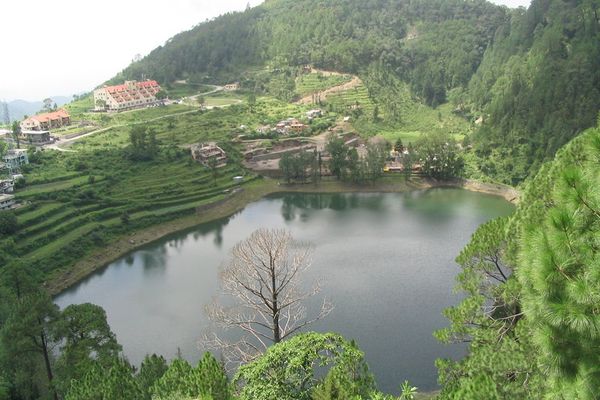 Khurpatal
As the region of Nainital is famous for its lakes and various water bodies, Khurpatal lake is one such body which plays an essential role in supplying water to the town. These lakes make sure that residents can drink safe water and never fall short of it. There are hills and tall trees surrounding the lake which makes the location look more beautiful.
 It is located in the Khurpatal town of Nainital. The place is just at a distance of 10 km from Nainital.
 You can spot a lot of fishes here because it provides a natural habitat for many fish species. Even fishing activities are carried out here which suffices the need of fish eating habits in the region. If you notice, the lake resembles the color of an emerald. This is quite interesting for the tourists and they love to take pictures of this beautiful natural lake.
Naini Peak
An altitude of 2,615 m (8,579 ft). The highest peak of Nainital provides a challenge to the most avid trekkers. 
Situated about 6 kms (4 miles) from Mallital. Naina Peak is known for its splendid Bird's eye view of the town, the Himalayas and also the vast expanses of the Terai regions of Kumaon.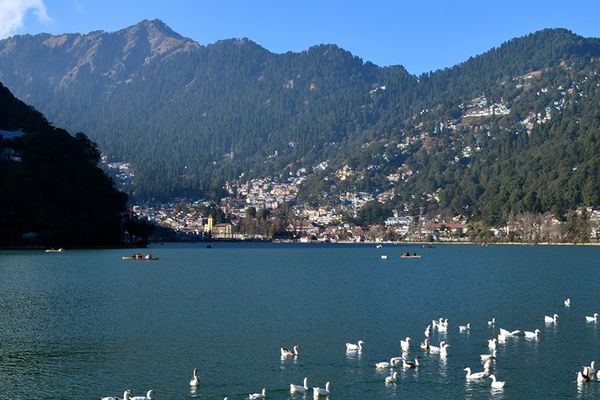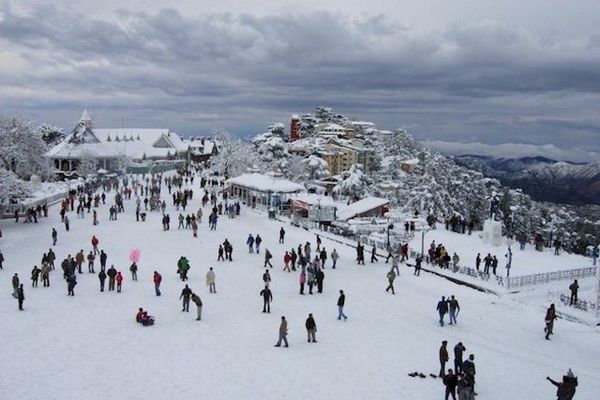 Snow View 
At a distance of 3 km from Tallital Bus Stand & 2 km from Nainital Lake, Snow View Point is one of the most beautiful places in Nainital and also among the most visited Nainital tourist places.
Situated at an altitude of 2,270 m, Snow view point offers excellent views of snowcapped mountains like Nanda Devi, Trishul and Nanda Kot. It also offers great views of Nainital Lake and the town. Snow view point is well connected by road but a ride in aerial ropeway from Mallital is the best way to reach this place.
In order to provide a perfect view to visitors, a pair of huge binoculars is installed at this spot. A small temple housing images of Rama, Sita, Lakshman, Hanuman with Durga and Shiva is located on the peak. The Tibetan monastery Gadhan Kunkyop Ling Gompa of the Gelukpa order situated near Snow view point is also a must visit spot. An early morning trek to this place gives some of the best views of the great Himalayan ranges. A special attraction for the kids is an amusement park that has recently opened up here. 
Nainital Ropeway 
Aerial rope-way is a major Attraction in Nainital, which draws hundreds of tourists each day who want to enjoy the breathtaking view of Naini Lake and complete Nainital Hill Station. Every tourists must take the Adventurous ride in rope-way which connected snow view point with Mallital. It takes less than 3 minutes to reach snow view point in Aerial rope-way.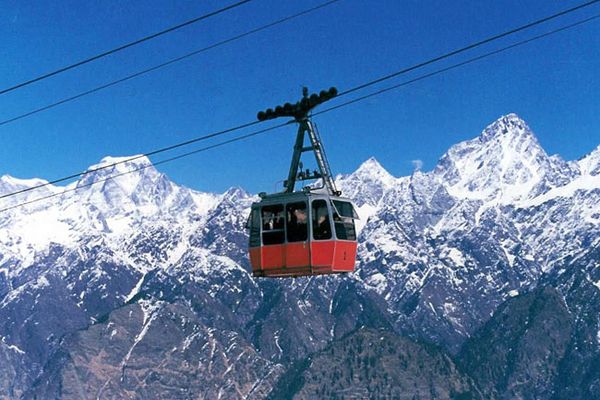 Bhimtal
22 kms away from Nainital. Bhimtal is named after Bhim, one of the five Pandavas of 'Mahabharata'. The lake at Bhim Tal is larger than Naini lake at Nainital. Boating, swimming and fishing are the main attractions. An island in the centre of the lake is an excellent spot for picnic. Fishing permits can be obtained from the fishing Inspector of Bhim Tal. Tourist Bungalow and private lodges are available here.
Naukuchia Tal 
27 Kms. Naukuchiatal or 'lake of nine corners', a small hill station in Nainital district is surrounded by hills covered in trees and shrubs. The Naukuchiatal Lake is the deepest of all the lakes in the Nainital region. The valley offers an opportunity of bird watching along with the tempting challenges like rowing, paddling or yachting.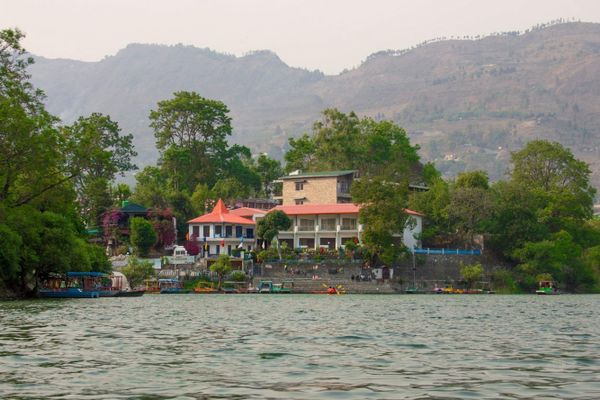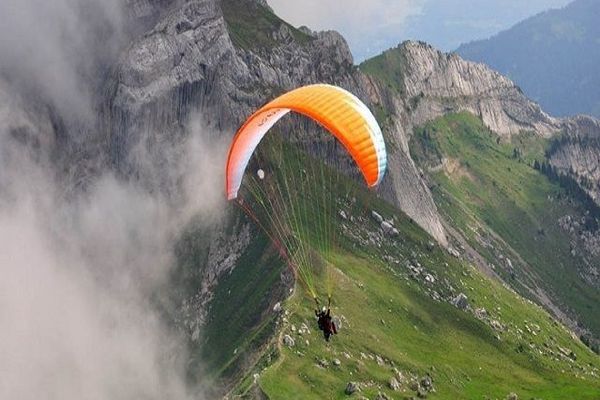 Adventure 
Near Naukuchia Tal famous for adventure point like as paragliding, mostly tourists enjoy it. When you come here all the sky full fill by paragliding. banji jumping point also in Nainital.
Sat Tal 
 21 kms. away from Nainital. This is a charming spot and the venue of the famous Kohinoor Camp in summer. There is an Ashram run by Dr. E. Stanley Jones of United States Missionaries, where religious, educational and social youth camps are held every year. Nearby, there are several small lakes, numbering seven, from where the name Sat Tal is derived. The lakes include Panna, Nal Damyanti and Sita. Sukha Tal is located in the middle of thick pine and oak trees. There are excellent facilities for swimming, boating and fishing. A small World Life sanctuary is another spot of tourist attraction.