Rishikesh
Rishikesh is yet another centre of pilgrimage and tourist attraction for Indians as well as foreigners. Rishikesh is popularly known as the Yoga Capital of the World. Rishikesh is 28 kms from Haridwar on way to Badrinath and is situated at the foothills on either side of holy river Ganga and is surrounded by Shivalik ranges from three sides. Rishikesh complex consists of three distinct areas, known as Rishikesh, Muni-ki-Reti and Swargashram. The town is well known for modem and ancient Ashrams. In addition, it has temples and other places which are in one way or other connected with Puranic legends.
 It is said that when Raibhya Rishi did rigorous penances, the God appeared and the place was named 'Hrishikesh' and subsequently the place came to be known as Rishikesh. Bharat, brother of Lord Rama, also subjected himself to severe penances here and in his memory Bharat Temple was constructed. Temples are also dedicated to Lord Ram, Lakshman and Shatrughan. The other temples are Pushkar temple, 7 Story temple, Rishikund and Raghunath temple. There are many spiritual Yoga and meditation centre located here which are regularly visited by large number of tourists from all over the world.
The adventurous, there are opportunities for white water rafting on the Ganga , banji jumping and many more.The climate here is continental type but its location in the foot hills gives it a pleasant weather throughout the year. One can visit Rishikesh any time of the year.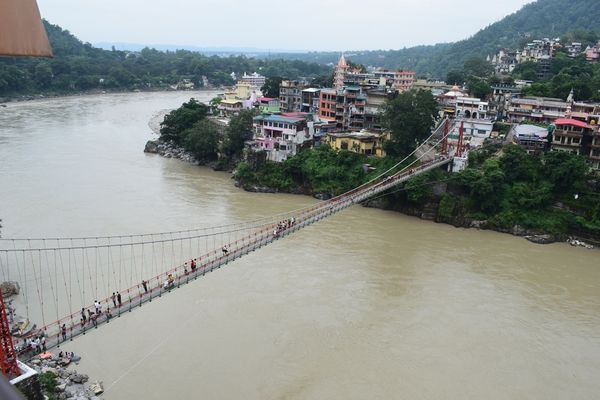 Laxman Jhoola
It is a beautiful sight about 7 km north of Rishikesh. There was a hanging just rope bridge across river Ganga (without pillar) till 1889 which was rebuilt with iron ropes in 1939. The suspension bridge has a span of 140. Raghunathji's temple is the main attraction at Laxman Jhoola. Laxman is said to have visited this place and is believed to have done penance to wash his sins for having killed a Brahmin. The suspension bridge connects Rishikesh with Tapovan across river Ganga where a temple is dedicated to Laxman.
Swarga Ashram
It is a quiet place on the left bank of the Ganges opposite to Shri Shivananda Ashram. Swarg Ashram can be reached either by crossing Ganga by boat or by another Ram/Shivanand suspension bridge since built across river Ganga. An idol of Shri Badrinath Ji is enshrined in the temple which is surrounded by forest. Pilgrims visiting Badrinath temple also pay their visit to Swarga Ashram. The temple and Dharamshala is maintained by Kali Kamliwala Kshetra enroute. In fact Swarga Ashram is a self-contained township with restaurants, shopping centre along with temple, parks, libraries, meditation centre and Ay.urvedic dispensaries.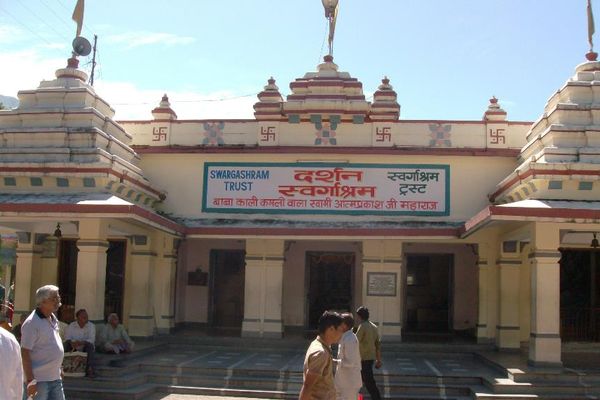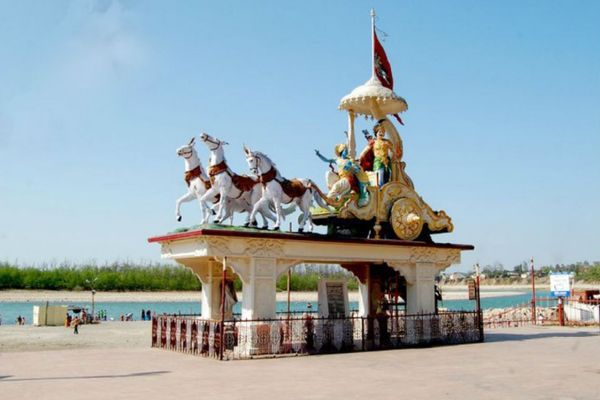 Triveni Ghat
To be found in the heart of town, is the most famous bathing ghat, where most pilgrims take a holy dip earlier than they visit the various temples. This is done generally in the early mornings, with the pilgrims offering prayers and milk at the Ghat and feeding the fish in the water. An amazing sight here is the evening arati, a ceremony accompanied by lights, drums and chanting, with the entire ghat lit with lamps glowing from a distance.
Bharat Mandir
Bharat Mandir said to be the oldest temple here built by the Adi Shankaracharya. This 9th century temple has the deity of Lord Vishnu carved out of a single black stone popular as Saligram, and is placed in the inner chambers of the temple. The original temple was said to have been destroyed in 1398 AD. If you are lucky, catch the spring festival also called Basant Panchami celebrated here.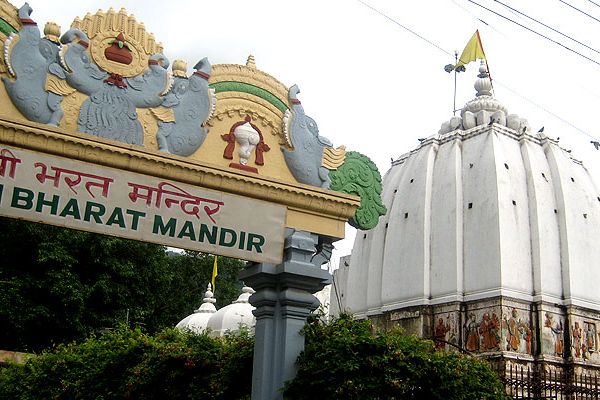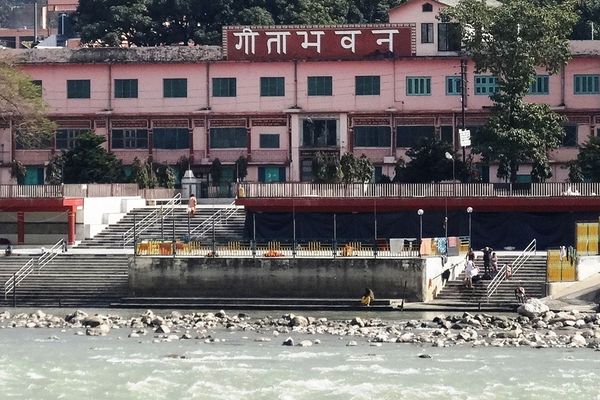 Gita Bhavan
Near the Lakshaman Jhula, is the newly constructed building of Gita Bhavan. It runs a free Ayurvedic dispensary and also has a branch of the Gita Press, Gorakhpur. There are more than a hundred rooms for visitors and this edifice houses various striking paintings and statues of ancient mythological characters. The stories of the ancient epics- the Ramayana and the Mahabharata are beautifully illustrated on its walls. The place is also popular among the tourists.
Trimbakeshwar Temple 
Trimbakeswar temple is a famous tourist spot and holy multi story temple located on the bank of river Ganga in Rishikesh, also called up Tera Manzil temple in Rishikesh, this holy shrine has 13 storeys and each story has several idols of Hindu Gods and Goddesses.
Visitors gets attracted to its huge decorative symmetric architecture. From top floor of the Tera Manzil Temple , one can witness panoramic sunset view.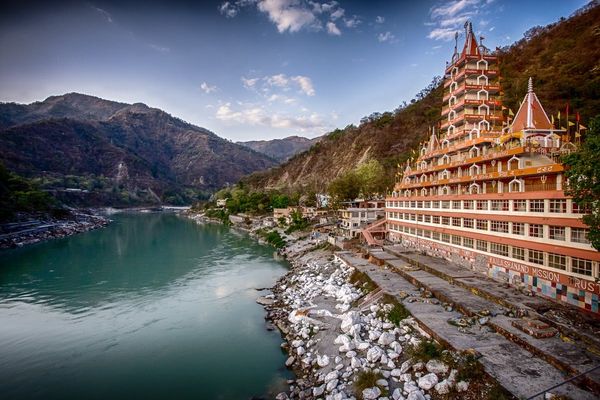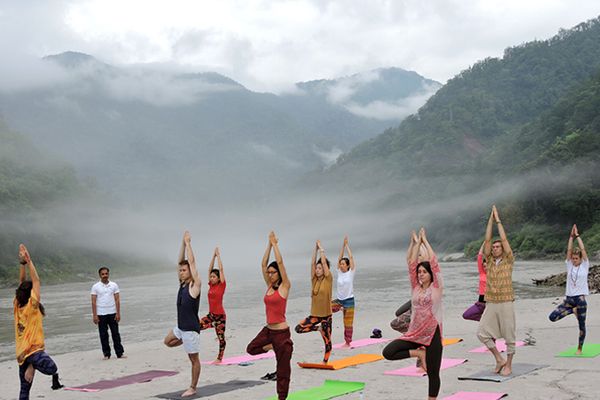 Ashram and Yoga Centre
Rishikesh is one of the most popular destinations for yoga in India. There are numerous ashrams, and numerous styles of yoga and meditation, to choose from. Hence, it's important to investigate which best meets your needs. Find out about some of the top Rishikesh ashrams.
Parmarth Niketan, Shivananda Ashram, Omkarananda Ganga Sadan, Yoga Niketan, Sadhana Mandir and Swami Rama Sadhaka Grama Ashram, Swami Dayananda Ashram, Phool Chatti, Anand Prakash Ashram, Himalayan Yog Ashram, Shree Mahesh Heritage Meditation School, Osho GangaDham Ashram.
Rafting on the Ganga
The Indian sub-continent perhaps had the largest network of rivers in the world. The northern rivers with their origins in the lofty Himalayas provide an exciting adventure for the white water enthusiasts. These rivers race, surge, whirl, froth and crash over and around boulders, as though rushing to get to the freedom of the great plains, rejoicing in their escape from captivity of the mountains.