Roopkund Trek
Roopkund Trek, in the state of Uttarakhand in India, is a famous glacial lake. This lake is famous due to more than five hundred skeletons of humans that are found at the edge of the lake. It is located in the Himalayas and rests at an altitude of nearly 4,800 meters. Roopkund is located in the Chamoli district of Garhwal. It is one of the best sites for trekking in Garhwal. It is closer to hill stations like Nainital and Kathgodam. At a distance of 217 km from Nainital and 235 km from Kathgodam, Roopkund is one of the major adventure attractions for people in the country and also for people who are travelling from abroad. Roopkund, which is located in the lap of Trishul massif is also known as the 'mystery lake'. You can find human skeletons at the bank of the lake and it is believed that they belong to the Palaeolithic age.
Roopkund is a picturesque, beautiful and attractive tourist destination in the Himalayas. Located at the base of two Himalayan peaks, Trishul and Nandghungti, it attracts people who have an adventurous side to life. There are religious festivals that take place in autumn, held at the alpine meadow of Bedni Bugyal, where the nearby villages participate. The lake is covered with ice all the time and it adds to its beauty. It is an enjoyable travelling destination as one is surrounded by mountains from all sides. Trekking in Uttarakhand also gives you the chance to trek the Himalayas.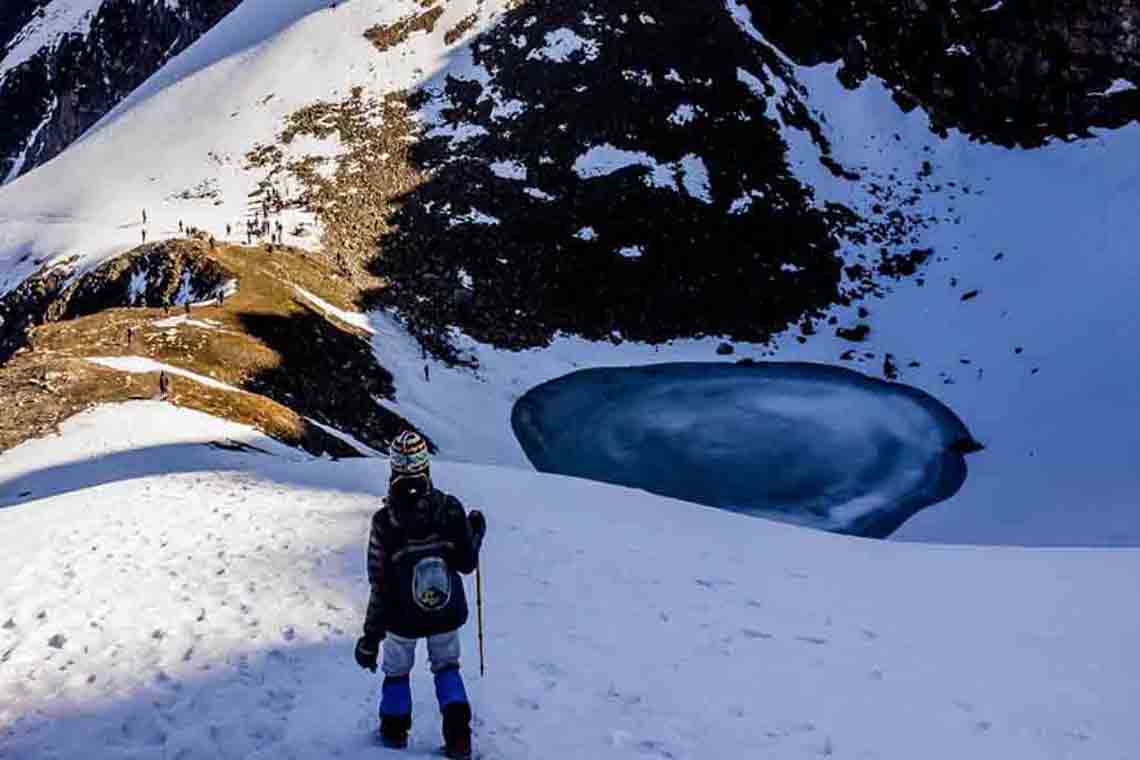 The most popular of Roopkund
If you're trekking in India, the Roopkund trek is a must-do! It's got everything going for it. Deep virgin forests, gurgling brooks, breath-taking campsites, miles of undulating meadows, snow and ice and the taste of a great adventure as you climb from 8,000 ft to 16,000 ft in six days. Roopkund, perhaps the most popular trek in India, is almost picture perfect. The Roopkund trail climbs out of splendid dark forests suddenly bursting into Ali and Bedni Bugyal, arguably India's most beautiful high altitude meadows. Out of the meadows the trail quickly gets into terrific alpine stretches. Climbing on snow to the Roopkund lake is a heart-pounding thrill. The beautiful Mt Trishul looms over the setting getting closer as you climb higher, when at a ridge above Roopkund, only air separates the trekker from them and Trishul.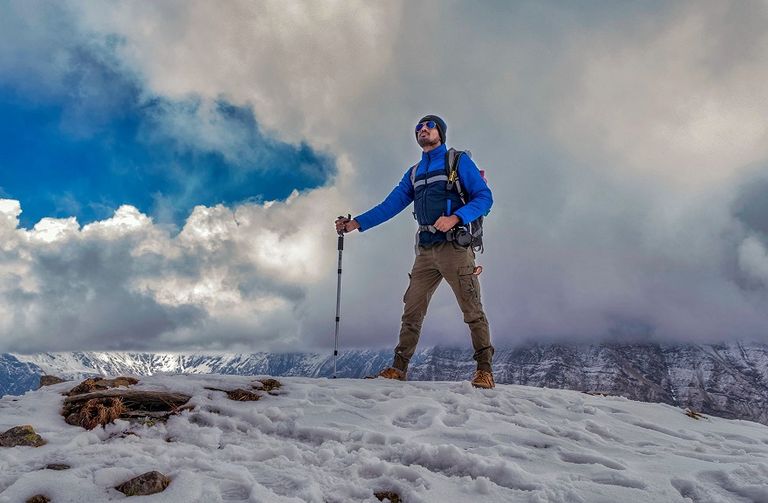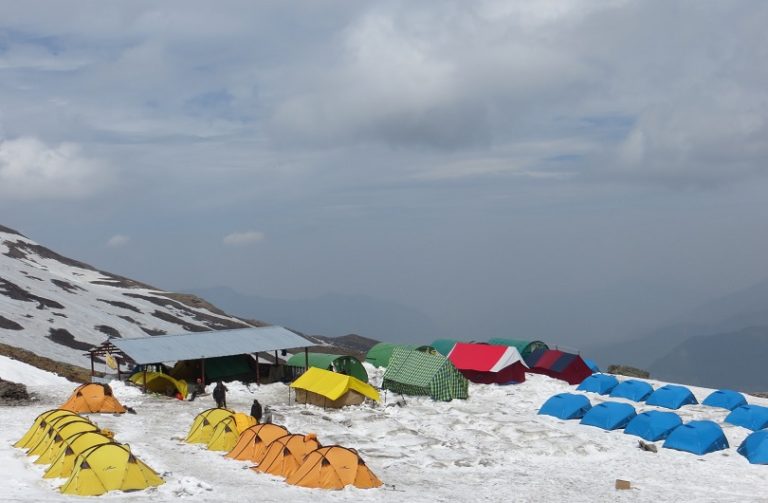 The meadows make the trek unbeatable
The two gigantic alpine meadows of Ali Bugyal and Bedni Bugyal will blow your mind away. It almost feels like walking into the famous Windows XP wallpaper. Throughout the trek you're fed with magnificent views of Mt Trishul and Mt Nanda Ghunti. Apart from these two, you see the imposing Chaukhamba range, Neelkanth peak, Kedarnath, Kedar Dome and several other high risers on the Roopkund trek.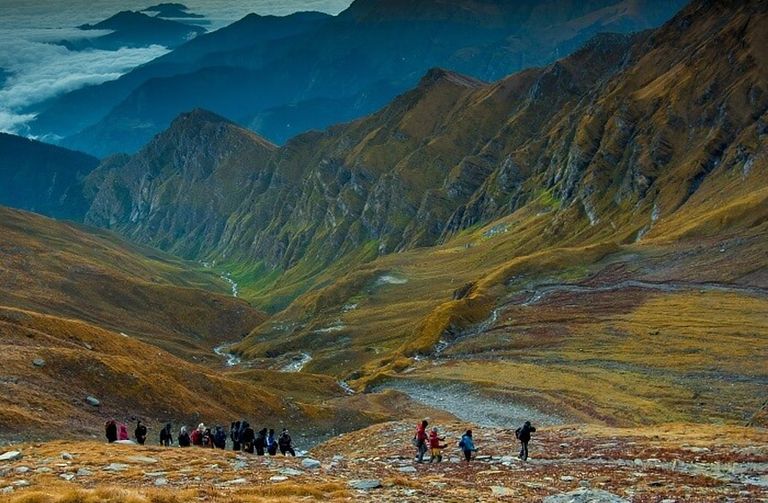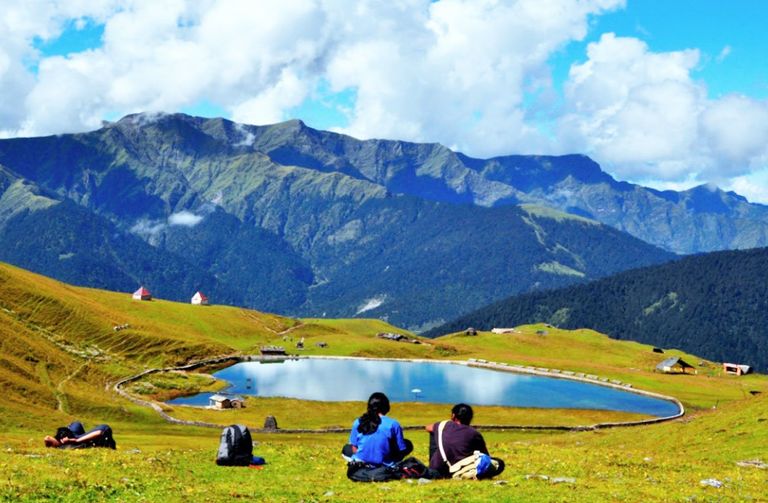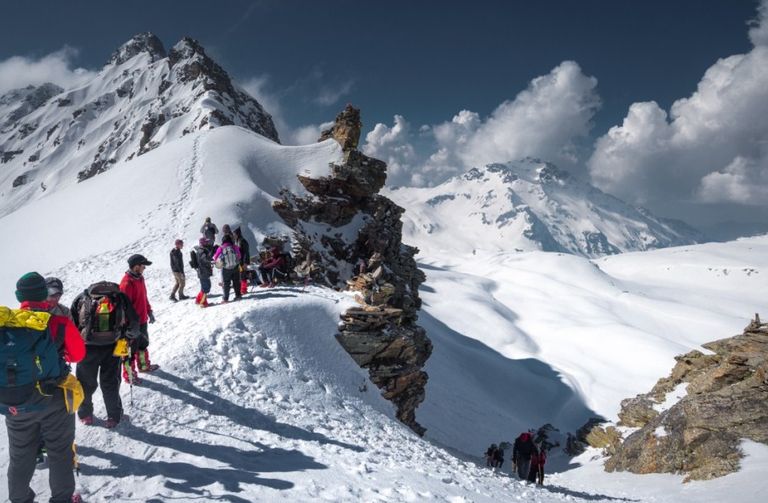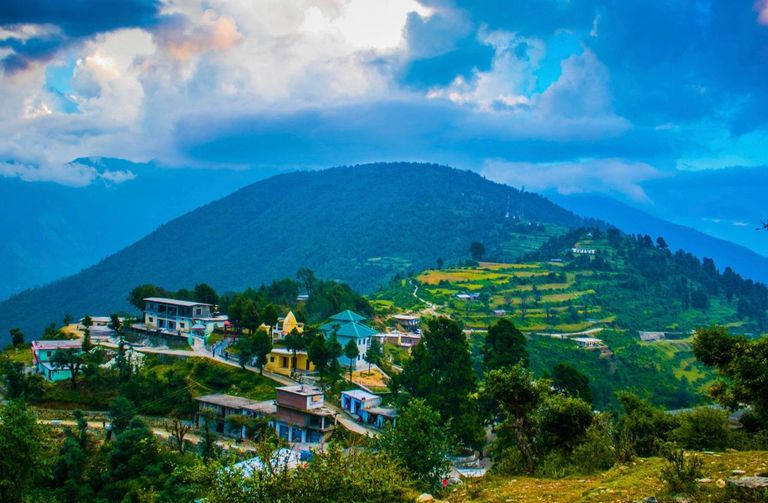 Day 1 : Kathgodam to  the base camp Lohajung
It is a 10-11 hour journey from Kathgodam to Lohajung. Read in detail about getting to Lohajung here. After a glimpse at Tharali, the sight of Mt Nanda Ghunti welcomes you to Lohajung. A village with wonderful views of Didina valley, Lohajung is a nerve centre of 12-15 villages. The name, as the locals say, comes from the myth that Goddess Parvati had a war (jung) with a demon Lohasur here. There is one local store where you can buy jackets, hand gloves, caps, shoes etc. if need be. However, it is advised that you carry all required things for trek beforehand and not rely on this shop. 
Day 2 : Lohargunj to Didna Village
Trek 6.5 km.
7,662 to 8,045 ft.
Reach Didna before lunch.
accommodation in village home stay.
No local market but Network is available.
Till ruan bagad bridge gradual descent (4.5 km).
Refill your water bottle at ruan bagad bridge from Neel Ganga river.
After ruan bagad bridge 2 hours of a steep ascent to Didna Village (2 km).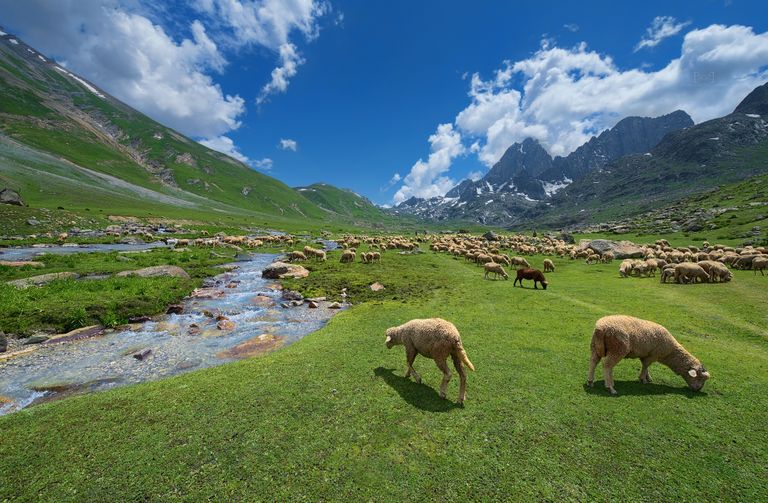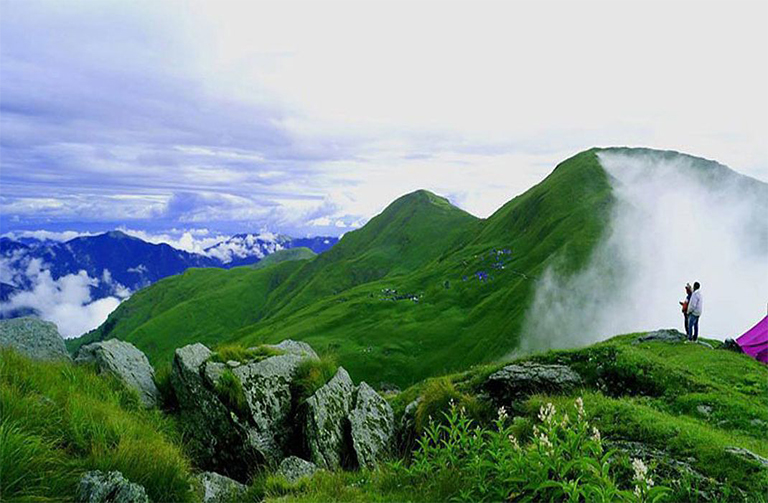 Day 3 :  Didna Village to Ali Bugyal
Trek 10.5 km.
8,045 to 11,320 ft.
Accommodation in tent.
Carry water and ors both.
Reach Ali Bugyal by late noon.
Keep your wind and waterproof handy.
Tolpani is the last point for drinking water.
First half of is through oak and rhododendron forest (Steep ascent).
Second half of the trek is through big alpine meadows (gradual ascent).
Day 4 : Ali Bugyal to Patar Nachauni via Bedni Bugyal and Ghora Lotani
Trek 7 km.
11,320 to 12,818 ft.
Easiest day of the trek.
Accommodation in tent.
Reach Patar Nachauni before lunch.
Ali Bugyal to Bedni Bugyal (gradual ascent 2 km).
Bedni Bugyal to Ghora Lotani (gradual ascent 4 km).
Ghora Lotani to Patar Nachauni (gradual descent 1 km).
Spend some time at Ghora Lotani good for acclimatization.
Ware proper clothing (this is the place where most of the trekkers get AMS).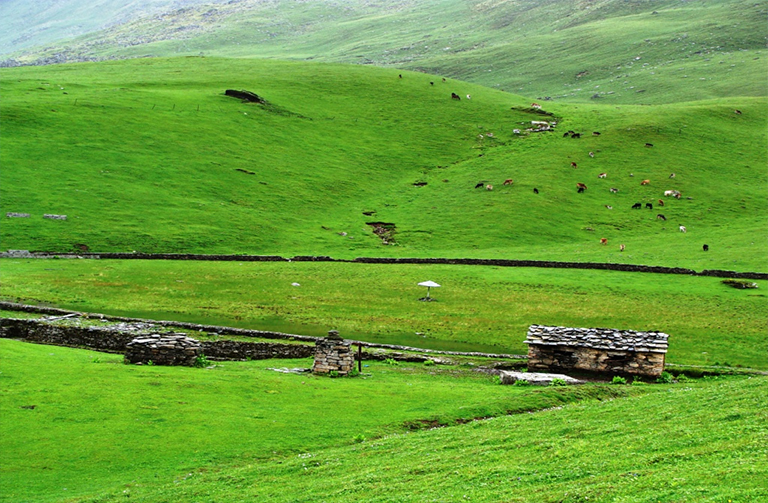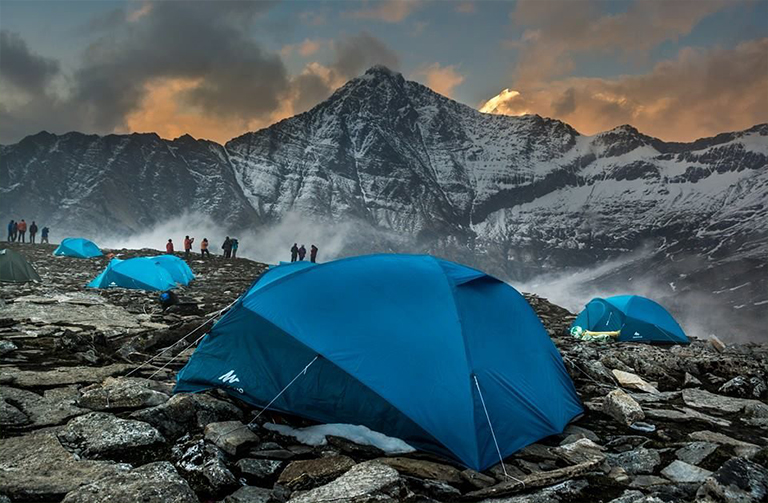 Day 5 :  Patar Nachauni to Bhagwabasa via Kalu Vinayak
Trek 4 km.
12,818 to 14,117 ft.
Accommodation in tent.
Reached Camp site by lunch.
Patar Nachauni to Kalu Vinayak Tempel .
(first 1 km is gradual ascent and rest 1.5 km is steep ascent).
Kalu Vinayak to Bhagwabasa (gradual descent 1.5 km, become tricky in may and June ).
There will be snow on the trail in the month of may and jun and in sep and oct it will be a rocky trail.
Day 6 :  Bhagwabasa to Roopkund to Patar Nachauni
Trek 10 km.
14,117 to 15755 ft.
Accommodation in tent.
Start your trek by 4:00 am.
Climb to Roopkund is 3 km.
Challenging day of the trek.
Carry energy bars, ors and water.
Breakfast will be at Roopkund top.
Reach Bhagwabasa back by lunch time.
Reach Patar Nachauni camp by evening.
In Aug, Sep, Oct can see skeleton but no snow.
In May and Jun snow will be there but can't see the skeleton.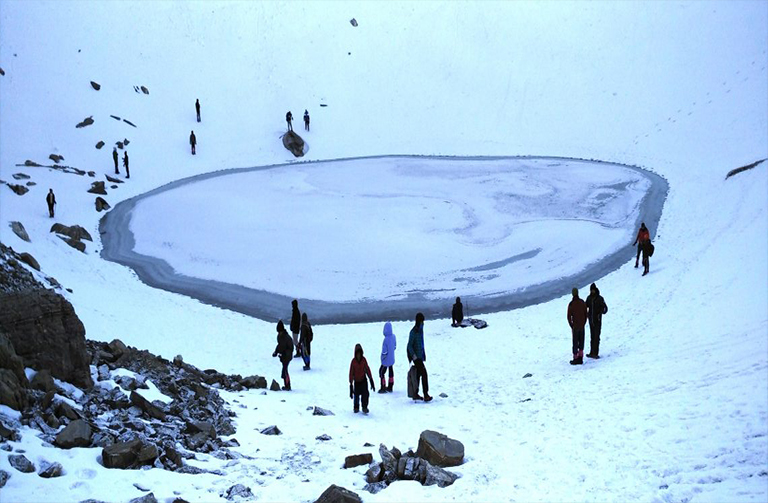 Day 7 : Patar Nachauni to Lohajung via Bedni and Wan
Trek 15 km.
12,818 to 7,662 ft.
Accommodation in guest house.
Patar Nachauni to Ghora Lotani (1 km gradual ascent).
Ghora Lotani to Bedni Bugyal ( 4 km gradual descent).
Bedni Bugyal to Doliya Dhar ( 0.5 km gradual walk).
Doliya Dhar to Ghaeroli Patal ( 3 km steep descent ).
Ghaeroli Patal to Neel Ganga ( 4 km steep descent ).
Neel Ganga to Ranka Dhar ( 1 km moderate ascent ).
Ranka Dhat to Wan Village road head ( 1.5 km gradual descent).
Wan Village to Loharjung ( 45 minutes drive, road condition is not good).
Route :- Patar Nachauni – Ghora Lotani – Bedni Bugyal – Doliya Dhar – Ghaeroli Patal – Neel Ganga – Ranka Dhar – Wan Village – drive to Lohajung.
Day 8 : Loharjung to Kathgodam
10 hrs drive.
Drive 210 km.
Reach Kathgodam 
On the way to Kathgodam at Kausani you can buy herbal tea and some souvenir.