Vrindavan
Vrindavan is a town in the Mathura district of Uttar Pradesh, India. Many tourist places in vrindavan. Tourist have must visit mathura vrindavan. It is the site where according to Hinduism, Lord Krishna spent his childhood days and is one of the main places in the Braj Bhoomi region. The town is about 11 km away from Mathura, Krishna's birthplace on the Agra-Delhi highway. The town hosts many temples dedicated to the worship of Radha and Krishna and is considered sacred by Vaishnavism. Since Vrindavan is considered to be a sacred place, a large number of people come here to abandon their worldly life.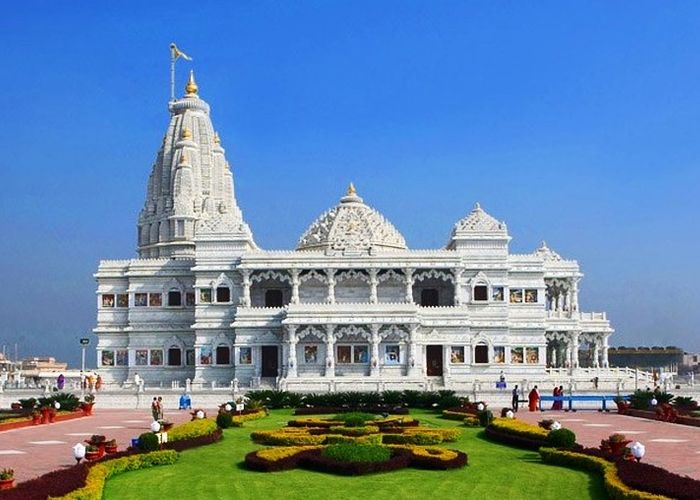 Prem Mandir 
Prem Mandir is a Hindu temple in Vrindavan, Mathura, India. It is maintained by Jagadguru Kripalu Parishat, an international non-profit, educational, spiritual, charitable trust.Known as "the temple of God's love", this grand religious place is dedicated to Radha Krishna as well as Sita Ram. Located in Vrindavan, the holy city in the district of Mathura in Uttar Pradesh, the temple is enveloped with piousness and serenity. This newly constructed temple is the most beautiful in the entire Brij area and is crowded with devotees during the time of the Aarti. The lighting of the temple further glorifies its spectacular look, especially during the night.
Bankey Bihari Temple
Bankey Bihari Temple is the prime attraction and the highly revered shrine of Vrindavan. In Uttar Pradesh, Vrindavan is a small town that is celebrated for this holy shrine of Lord Krishna. Banke Bihari Mandir is the popular temple amongst the Vaishnavites of India. The present temple was built by Swami Haridas in 1864. Here, Lord Krishna is observed in his phase of childhood. The services offered to the Lord are made in such style, as if, nurturing a small child.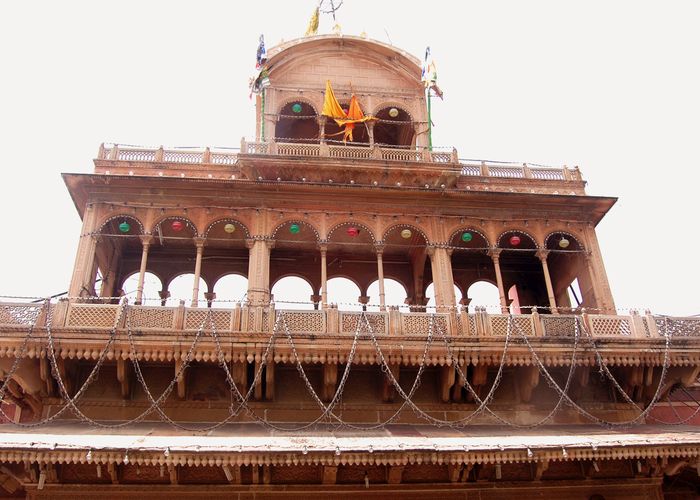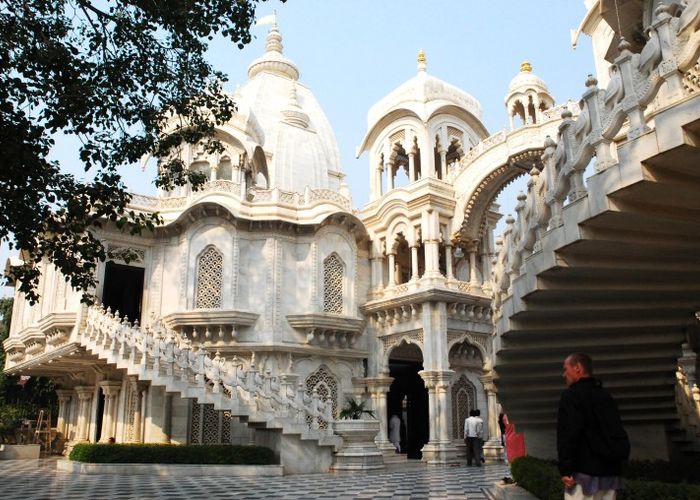 ISKCON Temple / Sri Krishna-Balaram Mandir
This temple was built in 1975 on the instructions of Bhaktivedanta Swami Prabhupada, who is the founder-acharya of ISKCON. The core objective of this temple was to increase awareness about the Vedic scriptures and the Bhagavad Gita. Even today, it is regarded as one of the most popular temples in Vrindavan.
This entire temple complex is a busy preaching powerhouse comprised of thirty departments including a guesthouse, welcome center, Samadhi museum, ten book stalls, bakery, restaurant, broadcast studio, residential Brahmacari ashram and a Deity department with one of the highest standards of worship in the world, engaging more than one hundred devotees directly in the seva everyday.
Radha Raman Temple
Sri Radha Raman Mandir or Sri Radha Raman Temple, is an early modern period Hindu temple in Vrindavan, India dedicated to Lord Krishna as Radha Ramana. It was constructed at the request of Gopala Bhatta Goswami at around 1542. This temple is among the 7 temples of Thakur of Vrindavan including Sri Radhavallabh ji, Shri Govind Dev ji and four others. The temple is exquisitely crafted and one of the most revered temples in Vrindavan, especially by the followers of Gaudiya Vaishnavism. It houses the original shaligramdeity of Krishna alongside Radharani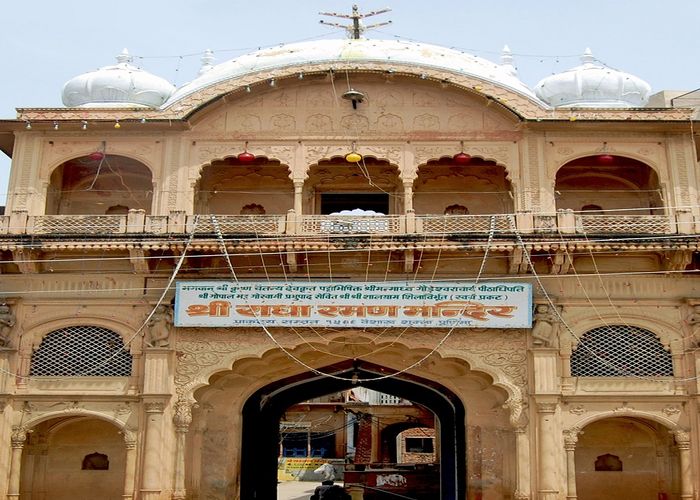 Shahji Temple
The Shahji temple was built in the year 1876 by Shah Kundan Lal, and is dedicated to Lord Krishna. The main deity here is known as Chhote Radha Raman.Its impressive marble structure features 12 beautiful spiral columns of a height of 15 feet each and also the Basanti Kamra which is a hall with Belgian glass chandeliers and intricate paintings placed within.
Gokulnanda Temple
Located in the pilgrimage city of Vrindavan Mathura, Radha Gokulnanda Temple is situated near the Kesi Ghat on the bank of river Yamuna. Radha Gokulnanda Temple was perceived by and was built with the help of Viswanath Cakravarti. There exist deities of Radha-Vinoda, Vijay Govinda, Radha Gokulnanda and Caitanya  Mahaprabhu. Earlier all the deities were worshiped in their respective temples. It was various of Vishwanath Cakravati who brought all the deities to be worshipped together under one single temple.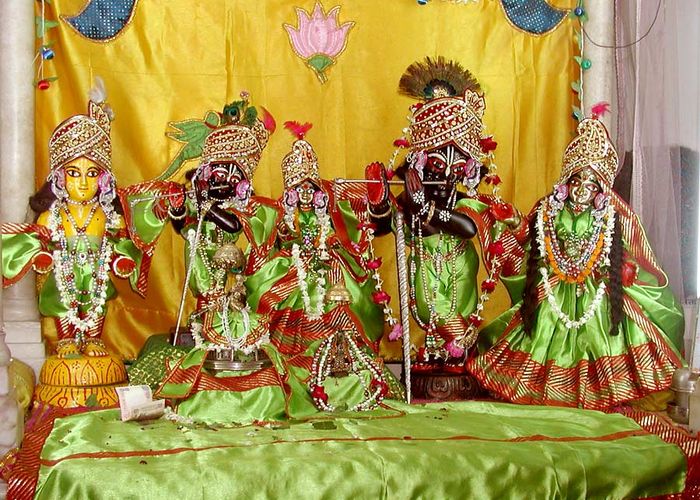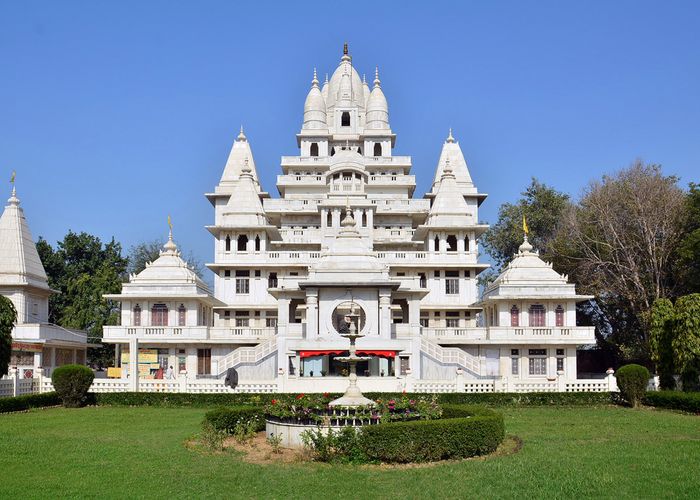 Pagal Baba Mandir 
Pagal Baba Mandir is an amazing temple built in white structure with modern design. The architecture is very appealing. One can witness the evergreen beauty which is around this splendor temple. It is established by Pagal Baba, famously know by his follower. This temple look astonishing and attract many eyes during Purnima. Many devotees who come to Vrindavan definitely visit this temple because devotees have strong benefit that anyone who wish or pray here, definitely get paid off and Lord Krishna and Pagal Baba grand all their wishes.     
Seva Kunj and Nidhuban
Seva Kunj and Nidhuban is a beautiful garden, which is frequently visited by the devotees and nature lovers. There is a small temple inside the garden, which is dedicated to Radha-Krishna. According to the legend, Lord Krishna performed Raslila with Radha in this garden. It is also said that Lord Krishna spent lot of time in this garden, dancing with gopis.  
There is a restriction on entering the garden after it gets dark. According to a famous myth, Lord Krishna along with Radha visits this place at night.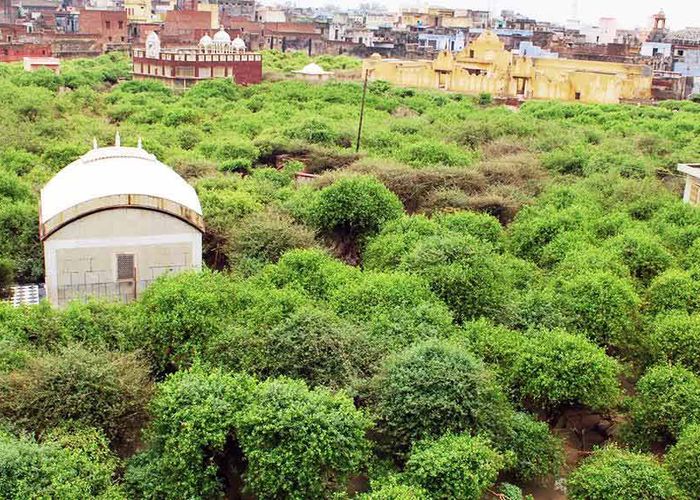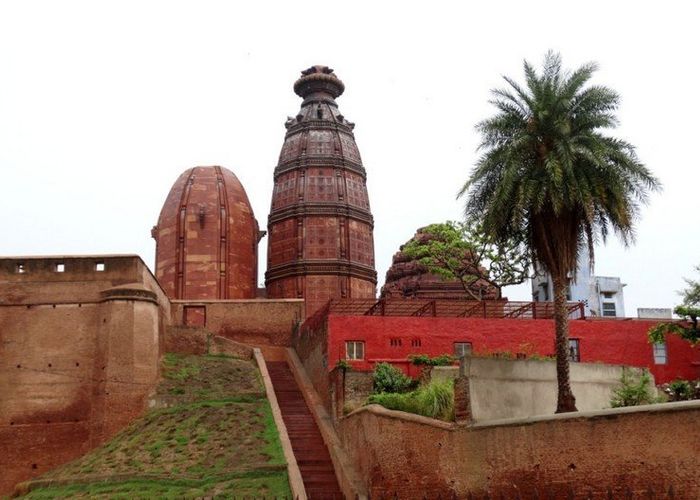 Madan Mohan Temple
mongst the oldest temple in Vrindavan built in 1580, Madan Mohan Temple is located on a hillock with fortified walls around it, along the parikrama path just a little distance from Banke Bihari Temple. The striking temple with its 60-ft high shikhar, is now under the aegis of the Archaeological Survey of India. It was built by Kapur Ram Das of Multan. This is the oldest existent temple in Vrindavan today. It is said that after vanquishing the demon Kaliya, Lord Krishna rested on this hillock. Drenched with water he began to feel cold, and instantly, twelve suns came down to give him warmth, giving the hillock its name, Dwadasha Aditya tila
Sri Radhavallabh Vrindavan Temple
Radhavallabha is a Vaishnava denomination which began with the Vaishnava theologian Hith Harivansh Mahaprabhu. This theology and Harivansh's leadership created the Radhavallabha sect. Radhavallabha Theology emphasizes devotion to Radharani. Shri Radhavallabh ji Temple in Vrindaban , Mathura is a very famous temple of the same preaching.This temple is among the most famous 7 temples of Thakur of Vrindavan including Sri Radhavallabh ji, Shri Govind Dev ji, Shri Bankey Bihari Ji and four others. In this temple, there is no deity of Radharani, but a crown has been placed next to Krishna to signify her presence.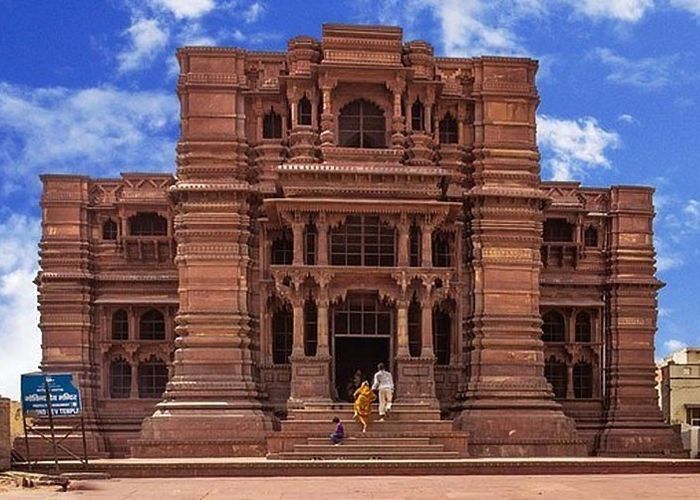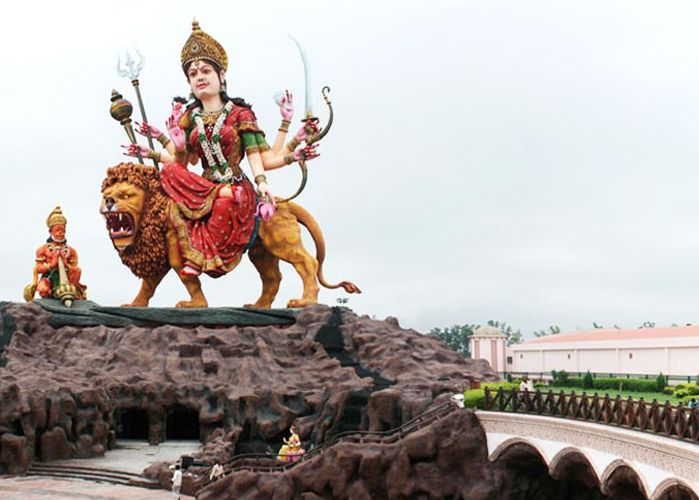 Mata Vaishno Devi Dham
Vaishno Devi mandir is actually located in Katra district in Jammu. Every year thousands of pilgrims from different parts come to this Vaishno Devi temple to have the blessings of Maa Vaishno. But due to certain reasons few people are unable to get the opportunity to visit the shrine. Keeping this in mind Sh. J.C. chaudhary, managing trustee of Jay Kay trust decided to erect a shrine commemorating Maa Vaishno Devi in the divine land of Vrindavan. The temple is built on 11 acres of land and has a huge and beautiful image of Goddess Durga sitting on a Lion which attracts the pilgrims towards the temple. The temple premise has many facilities for the pleasure of devotees. There is a yoga center and a big meditation hall along with dharmshalas and library.
Akshaya Patra
Located on the outskirts of Vrindavan and spread in a vast area near to the ISKCON temple, the Radha Vrindavan Chandra Mandir is dedicated to Lord Radha Krishna. The temple is also called by the name Akshaya Patra temple, due to the fact that here is established a huge kitchen with large machines and huge containers for preparing food for thousands of school children. The kitchen has been set up with an objective to provide the mid day meals to the poor children who are studying in the schools in nearby villages and districts of Vrindavan. 'Akshaya' actually means 'never ending' and Patra means 'A container' thus Akshaya Patra is defined as the container that is never empty.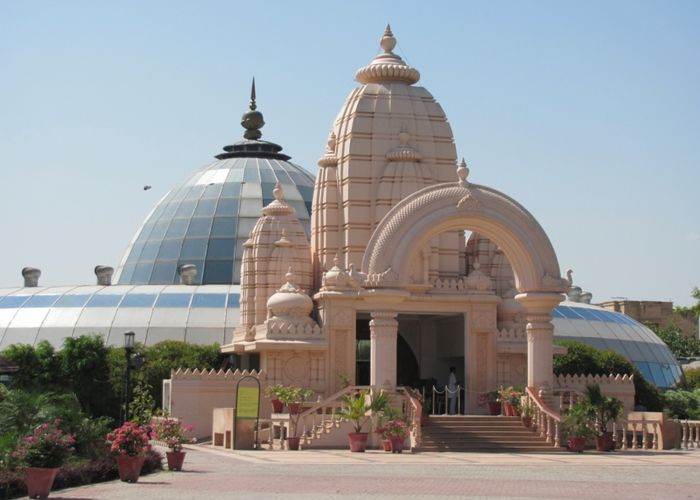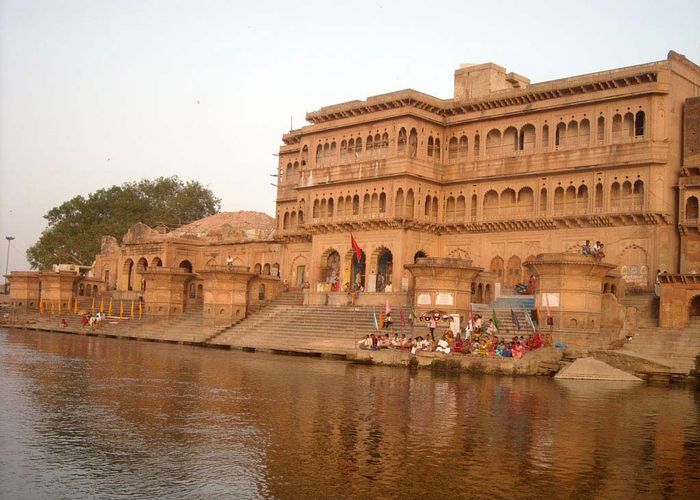 Keshi Ghat
Vrindavan is small, close knit town in the state of Uttar Pradesh . It is Know for being the town where Hindu deity Krishna spend his childhood. Here Many temples, historical site and temple are based on childhood miracles and adorable activities done by Krishna.  One of them is the Kesi Ghat, on the bank of river Yamuna, which is believed to be the place where lord Krishna took a bath after killing the Demon Kesi. Believers take a bath here to seek blessing of god and attain Moksha.     
Rangji Temple 
The great and marvelous temple is founded by Seths Gobind Das  and Radha Krishna, who where brothers of the famous millionaire of that time, Shree Laxmi Chandra. Based on Swami Rangacharya's guidance, who was the famous Sanskrit scholar and guru, Seth Gobind Das and Radha Krishna built this temple. This temple work commenced in 1845 and completed in 1851. In 6 year this temple was completed and it took 45 Lakhs as expenditure to built it.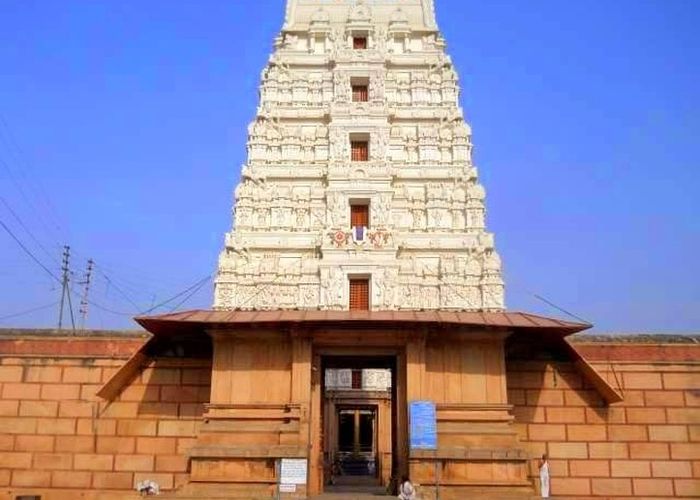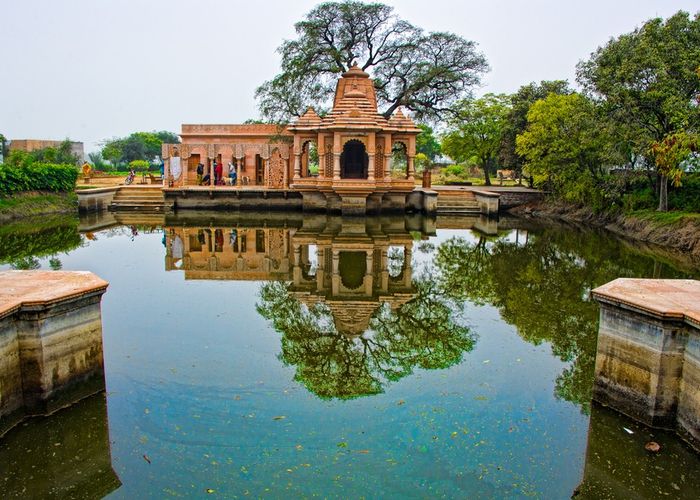 Vrinda Kunda and Gupta Kunda
Vrinda Kunda is where Srimati Vrinda Devi is said to contemplate how she will arrange the daily pastimes of Radharani and Krishna. Next to Vrinda Kunda is Gupta Kunda, which is where Radharani is said to secretly meet Krishna. There is a beautiful deity of Vrinda Devi in the temple here. She has a yellow parrot on her left hand. This parrot is said to fly around Vrindavana and on returning tells Vrinda Devi what is happening there. The parrot is named Daksa and is said to have one lakh (100,000) disciples. Vrinda Devi arranges the pastimes in Vrindavana. Tulasi is an expansion of Vrinda Devi. Paurnamasi is the guru of Vrinda Devi
Shree Radha Ras Bihari Ashta Sakhi Temple
In Vrindavan, on the holy Krishna Janmabhoomi, lies the temple that is a "must visit" destination for devotees completing the 84 kosh Vraj Parikrama Yatra. The temple is centuries old and is the first Indian temple that is dedicated to the divine couple and their Ashta Sakhi's – the eight "friends" of Radha who were intimately involved in her love play with the Lord Krishna. Mention of the Ashta Sakhis are found in the ancient texts of Ramayan and the Srimad Bhagvat. 
The temple is called – Shree Radha Ras Behari Ashta Sakhi Mandir and it is home to the divine Ras Leela of Lord Krishna and Radharani. It is located in close proximity to the Banke Behari mandir.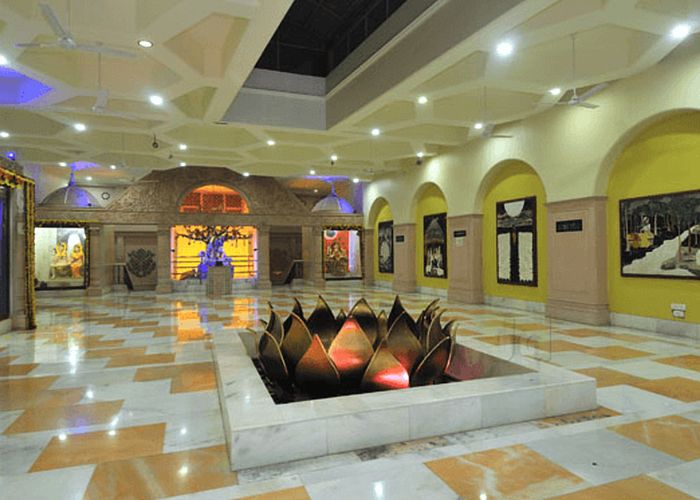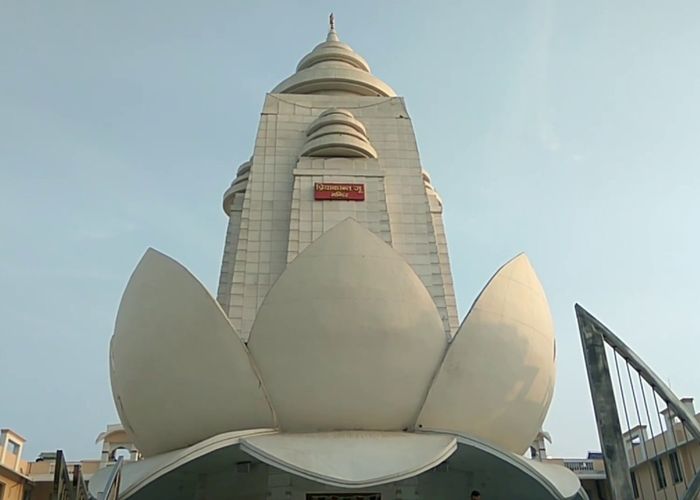 Priyakant Ju Mandir
Shri Priyakantju Temple is dedicated to Lord Krishna and the temple ensconced the beautiful and attractive deities of Lord Krishna and Radha.  The theme of the construction of this temple is Radha Krishna, Radharani is in the form of Priya Ji and Bhagwan Shri Krishna takes that of Kant ju giving darshan to the devotees.
The temple is situated in the holy city of Vrindavan in Mathura district, Uttar Pradesh. Built on the structure symbolizing lotus flower, the temple is almost 125 feet high